The Bucks start here as Grant & Stone builds on its partnership with Mercedes-Benz Dealer Hughes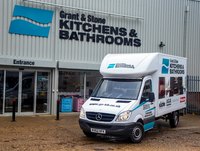 Mercedes-Benz Vans Dealer Hughes of Aylesbury has teamed-up with high-profile customer Grant & Stone to offer valuable incentives for operators buying new vehicles and arranging test drives.
The initiative means that any operator ordering a new Mercedes-Benz Citan, Vito or Sprinter from Hughes will receive £250 to spend with the family-owned builders' and plumbers' merchant and electrical wholesaler. Even those taking a test drive will get a £20 voucher.
Grant & Stone has a head office in High Wycombe and a network of 19 branches across Buckinghamshire and the Thames Valley – latest of these is the smart kitchen and bathroom showroom which it has just opened in Aylesbury.
The majority of its vans wear three-pointed stars so the family-owned company was only too happy to embark on the joint marketing campaign with its light commercial vehicle supplier.
Established in 1987, Grant & Stone runs 19 vans, 13 of which arrived via Hughes – the Dealer also maintains and repairs the operator's 13 Mercedes-Benz trucks, a combination of flat-beds and tippers.
Latest additions to the Grant & Stone fleet were a trio of 3.5-tonne Sprinter 313 CDI Long panel vans and a low-mileage Approved Used 313 CDI chassis cab with Luton body by Alloy Bodies, of Manchester.
The panel vans make multi-drop deliveries of building, plumbing and electrical products to trade and domestic customers across the region, while the Luton is used to carry larger bathroom and kitchen furniture, including worktops that come in five-metre lengths. Grant & Stone also relies on three Mercedes-Benz Citan small vans for local and urgent deliveries.
The company's Marketing & Design Manager Darren House said: "We've had vans from other manufacturers in the past, some of which remain on the fleet. But they cost a fortune to run in terms of fuel consumption and maintenance costs compared to our Mercedes-Benz vehicles, and they don't last as long either – some of our Sprinters are more than 10 years old and still going strong."
"The drivers also like their Mercedes-Benz vans because they're so comfortable and well-equipped, while as a company that's always conscious of its Duty of Care responsibilities to staff and other road users we take great comfort from knowing that they're also the safest on the road."
And he added: "Hughes of Aylesbury provides a first class service and has an excellent reputation in the local area. This, coupled with the fact that the Mercedes-Benz brand is a by-word for quality, means we are delighted to have entered this new marketing partnership with the dealer."
Hughes of Aylesbury Van Sales Manager Michael Mason said: "Grant & Stone is a high-profile regional business and a great advocate for Mercedes-Benz products and our after sales support. We also share many of the same customers, so I've every confidence that this new campaign is going to benefit both businesses."
For more information, visit grantandstone.co.uk.