Skoda gears up for winter with its broadest and best-value 4x4 line-up ever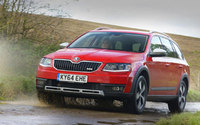 It may only be November, but winter has already started to exert its icy grip on the nation's motoring routines. With roads that resemble rally stages and a sun that can barely be bothered to get higher than the hedgerows, the British driver has a lot to contend with at this time of year. Thankfully, Skoda has the perfect cure for the winter blues in the form of its broadest and most comprehensive 4x4 line-up to date.
As buyers have come to expect, all Skoda 4x4 models have been designed and engineered to thwart the harshest of winter conditions, and feature the very latest in all-wheel drive transmission technology. Prices range from £19,695 to £34,575, meaning that there's a Skoda 4x4 to suit all budgets and requirements.
Octavia Scout and 4x4
The latest member of the Skoda 4x4 family, the all-new Octavia Scout, arrived in UK showrooms last month with prices starting from £25,315. The third model to wear the famous Scout badge, the latest version is based on the Octavia Estate and features a host of features designed to make it the perfect winter workhorse. These include an underfloor Rough Road package that offers additional protection for the underside of the car, and a fifth-generation Haldex clutch 4x4 system that delivers exceptional levels of traction with greater efficiency than ever before. Thanks to a system that can detect slippage and transfer drive within milliseconds, the Scout can transform from family runabout to off-road star in the blink of an eye. Power comes in the form of two advanced 2.0 TDI diesel engines that produce 150PS and 184PS; the latter is equipped with a DSG gearbox as standard.
And it's not just the Scout that has 4x4 ability. The technology that underpins the Scout can also be specified in the standard Estate model. Available with either a 1.6 TDI 105PS engine and five-speed manual gearbox (in SE and Elegance trims) or a 2.0 TDI 150PS engine and six-speed manual gearbox in SE, Elegance and Laurin & Klement specification. Prices for the Octavia 4x4 start from £21,965.
Yeti Outdoor 4x4
Refreshed and redesigned for 2014, the multi-award-winning Yeti combines incredible go-anywhere ability with the practicality, comfort and value that Skoda customers demand. With prices starting from £19,695, the Yeti Outdoor 4x4 has been designed to deliver adventure regardless of the conditions. Thanks to ground clearance of 180mm and an advanced Haldex all-wheel-drive transmission, the Yeti Outdoor makes light work of rough roads, and is capable of tackling the most arduous of terrains with ease.
The Yeti Outdoor also comes with the option of an off-road button (standard from Elegance trim) that introduces a host of features aimed at helping drivers maintain complete control in tricky situations. These include a system that limits downhill speed on steep slopes (more than 8%), and broader operating parameters for the pulling away and hill start assistants.
Superb Outdoor and 4x4
Combining space, grace and the security of all-wheel-drive, the Superb Outdoor and 4x4 models deliver the ultimate in no-compromises family motoring. Launched earlier this year, the Superb Outdoor and Outdoor Plus models sit alongside the existing 4x4 models in the brand's flagship range. Priced from £27,000 and available with a choice of two 2.0 TDI engines (140PS or 170PS), Outdoor models feature rugged body styling and a range of adventure essentials including hill hold control, heated washer jets and Amundsen satellite navigation (standard on Outdoor Plus).
Outdoor models feature the same intelligent Haldex all-wheel-drive system as the standard 4x4 Superb models which are available in SE, Elegance and Laurin & Klement forms. Offered in both hatch and estate forms, engine options range from a 2.0 TDI CR 140PS unit, to a 3.6 V6 260PS. Prices for Superb 4x4 models start at just £25,960.
In addition to offering a wide range of 4x4 models, Skoda also offers range of winter-beating products and services designed to keep owners moving. These include winter tyre packages, a comprehensive Winter Health Check and a range of accessories.