Clifton on Ice opens in style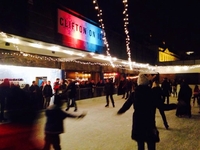 From a derelict building site to an alpine ski lodge and real ice rink the transformation was breathtaking and one which has really impressed and surprised local traders. Clifton on Ice, located in Clifton Village opened its doors and invited along shop owners to take a look before it officially opened yesterday.
Carol Smith who attended the official launch last night commented 'This is one of the most festive and authentic venues I have ever come across in Bristol. It was incredible to see how realistic the whole alpine festive experience was. The Après Skate bar is a great place to enjoy a drink and socialise even if you don't want to skate. I shall definitely return with the children and watch them skate whilst enjoying the festive atmosphere with my friends. I can't wait. "
Karin Ashwell, Marketing Manager at Bath Ales who are running the aptly named Après Skate bar said "We are delighted to be involved with the iconic ice rink in the heart of Clifton and re-opening the Beerd pop-up bar. The ice rink is a fantastic place for people to come and have a good time, get into the Christmas spirit and stick around for a festive drink or delicious "posh dog" in great surroundings. We want people to have an unforgettable time"
Jesse Banovic from the developers of the site THAT Group said "Clifton on Ice is our second meanwhile project on this site and the overnight transformation is all part of the magic. THAT Group collaboration projects are a fundamental part of the development process for us, bringing neighbours and local businesses together. We look forward to many more creative projects in the future."
The real ice rink and bar is open daily from 27 November until 4 January. For details, visit cliftononice.com.