Bentley pledges chance to win arctic circle driving experience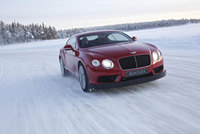 Bentley's flagship and highly exclusive ice-driving experience, Power on Ice, will have two extra participants in 2015, after Bentley donated two spaces as prizes for the very first time to a new international charity, Care2Save. All proceeds from a public competition will provide funds to improve excellence in hospice and palliative care around the world.
The competition will run from 1st December 2014 - 8th January 2015, with entries costing just £1. There is no limit to the amount of entries possible and they can be made through the website care2save.co.uk/bentley/. Bentley is also donating exclusive gifts for those that buy a number of entries into the charity draw, including a tour of Bentley's factory in Crewe.
Set in the icy north of Finland, Power on Ice elevates the concept of ice driving to the extreme, with the most powerful Bentley line-up yet. Throughout the four-day adventure, the winners will push a range of Bentley cars beyond the limitations of every-day driving, starting with the first ever chance to drive the Continental GT3-R on ice.
With expert in-car tuition from Bentley's Ice Driving Team and four-time World Rally Champion, Juha Kankkunen, piloting the cars on his personally designed tracks is just one part of this once-in-a-lifetime experience. Hosted in characteristic Bentley luxury, the home of the event is the boutique hotel of Chalet Ruka Peak, which offers additional activities at a slightly different pace. Snowmobile rides, ice-karting and night-time Huskey-sled safari adventures to reindeer farms ensure a truly unique experience, with each place normally costing €11,340.
Care2Save was created by the fundraising team at St Luke's Hospice, Cheshire, close to Bentley's headquarters in Crewe.
Marlies Rogait, Bentley's Member of the Board for Human Resources, commented: "Bentley has been a long-term supporter of St Luke's, valuing its contribution to the local community and the important role it plays in caring not only for Bentley employees and their families, but the wider community as well. We look forward to working with Care2Save more and supporting the invaluable work it does to help hospices around the world."
Bentley has formed a strong relationship with the Hospice, aiding the work of St Luke's in many different ways from staff volunteering and sponsored walks to Bentley colleagues restoring a former London Routemaster bus on behalf of St Luke's. The bus, called 'Luke' is the only Routemaster bus with Bentley livery in the world, and is used as a mobile base for fundraising and public education.
Andrea Fragata Ladeira, CEO of Care2Save, added: "Hospice and palliative care is required by families everywhere at some point in life. Around the world, hospices and their staff are there to provide this essential support when families need it most. We are truly delighted to be working with Bentley. This new and exciting relationship will enable us to better support the hospice movement both here in the UK and abroad.
"Being able to offer tickets to Power on Ice is a fantastic and exciting start to our relationship. I would like to encourage as many people as possible to enter the competition and also visit the Care2Save website to learn more about how they can support the hospice sector."