Seat Ibiza becomes 500,000th Volkswagen Group UK car sold in 2014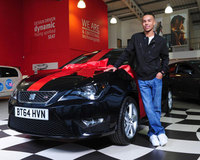 Seat is proudly celebrating the handover of an Ibiza as the 500,000th Volkswagen Group UK car to be sold in 2014. With sales up 19% overall compared to last year, including a 24% gain in retail alone, the sporty Spanish brand has performed exceptionally well and is the fastest-growing marque of the Group, largely on the back of the roaring success of its ever-growing Leon range and the iconic Ibiza.
The happy occasion took place at Bristol Street Motors Seat Birmingham, where a suitably young-spirited local buyer, Nathan Thomas-Robinson, 23, came to collect the keys to his first brand new car. No stranger to the brand, up until then he'd been cruising around in a much older Ibiza, before accompanying his girlfriend one Sunday to window shop at the Star City dealership. She splashed out on a nearly-new Ibiza SE in white, while just a few days later, he returned to order the high-selling supermini in SC FR 1.2 TSI 105PS guise, in super-sleek Phantom Black.
Also present on the momentous occasion were Peter Jones, Vertu's Non-Executive Chairman and the site's General Manager, Stuart Smith, who were delighted to hand over a bouquet of flowers for his girlfriend, as well as a bottle of Spanish cava for them to enjoy together.
Before driving off into the sunset, or more realistically, the damp and misty surrounds of Britain's second largest city, Nathan beamed, "I just love it. I test drove a five-door version with the same engine and it's got real pull. It looks great inside and out, with a real feel of quality. I can't wait to go out in it. I've never won, or been given anything either, so I'm really chuffed with the nice little collection of pre-Christmas gifts from the Seat guys too."
Handing over the keys, with an appropriately bright red Seat-style envelope containing GAME vouchers for the video game-loving new Ibiza owner, Seat UK's Director, Neil Williamson, commented, "We're absolutely delighted to be marking the major milestone of half a million Volkswagen Group UK car sales this year by handing over a Seat. British buyers are a discerning bunch, with a keen eye on affordable quality, style, technology and value. The Ibiza, our long standing best-seller, delivers on all those fronts and I'm sure Nathan, and his girlfriend, will enjoy many years of happy Spanish-style motoring in their co-ordinating cars."
For more information on the Seat range, as well as details of your closest dealer, log onto seat.co.uk.