Jaguar XE to offer industry-beating residual values & cost of ownership to fleet buyers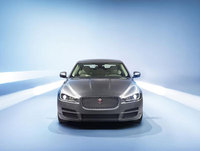 The Jaguar XE won't just offer class-leading driving dynamics and drop-dead good looks when it arrives in showrooms next year, it will also offer the lowest cost of ownership of any of its premium rivals.
Industry valuation companies CAP, Kee Resources and CDL agree that the Jaguar XE will offer stronger residual values than equivalent BMW 3 Series models. In fact, the latest figures show that the majority of leading valuation companies predicts the XE will have stronger residual values than all of its premium rivals.
Over three years or 30,000 miles, CAP predicts that the XE will retain 45% per cent of its value, placing it ahead of rival models from BMW and Audi. Against the same competitor set, Kee Resources and CDL rate XE as best in class ahead of Audi, BMW and Mercedes.
Thanks to the ultra-low 99g/km CO2 emissions produced by the XE's all-new 2.0-litre 163PS Ingenium diesel engine, the XE also has lower Vehicle Excise Duty and Benefit In Kind rate than the BMW 3 Series, Mercedes C-Class, Audi A4 and Audi A5 as well as better fuel economy.
That, along with affordable servicing, maintenance and repair costs; a low insurance group rating; and, of course, class-leading residual values means that the XE will save customers thousands of pounds in ownership costs compared to the established competition. According to Kee Resources total cost of ownership saving over 3 years 36,000 miles vs. nearest rival is £2,215 before further benefit in kind savings.
Jaguar Land Rover UK Managing Director Jeremy Hicks said: "People expect Jaguars to feel luxurious, look superb and drive brilliantly, but many wouldn't necessarily expect a Jaguar to be affordable – but we've worked hard to ensure the XE is just that. An enormous amount of effort has gone into developing everything from the new efficient Ingenium engines to the superb value-for-money service plans.
"The fact that valuation companies rank XE as having some of the strongest residual values in class is the icing on the cake. This is a car that appeals to the head just as much as the heart."