Eat your way through Extremadura with new bespoke foodie experiences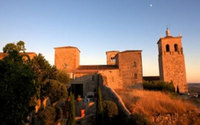 Trujillo Villas Espana is launching a menu of gourmet experiences for their guests, who are interested in learning more about authentic Extremaduran cuisine. The area in South West Spain is particularly famous for its pimenton and Jamon Iberico de Bellota, which is dry cured ham from free range acorn fed Iberian pigs.
Trujillo is a medieval walled hilltop town overlooking the plains of Extremadura three hours south west of Madrid. The town was home to several of the 16th century Conquistadors, who discovered the Americas and still remains relatively untouched by modernity and tourism. Trujillo Villas Espana, the only villa rental company in the town with five restored houses, has introduced the following foodie trips:
Enjoy a Conquistador's feast delivered to your villa. The recipes use ingredients introduced centuries ago from the Americas by Trujillo's Conquistadors, such as yams, maize, avocados, sunflowers, squash, peppers, chocolate and turkey. Dishes will include yucca croquettes stuffed with jamon and goats cheese, made with the root of the manioc plant, quails in rose petal sauce and chocolate puddings with pimento. The three course meal costs from £45 per person with a minimum of six covers.
Learn to cook the food of Extremadura with a local cook and make dishes such as Extremadura white bean soup or apricot and chilli stuffed pork tenderloin wrapped in jamon. Cookery mornings take place in Villa Moritos, a restored conquistador's mansion with sweeping views of the countryside. The cookery mornings cost £130 per person for four hours and includes all food and equipment.
A private viewing of the cellars of the two Michelin-starred Atrio restaurant in Caceres. Juan Antonio Perez and Jose Polo's restaurant is in a stylish contemporary building in old town Caceres, half an hour's drive from Trujillo. The wine list is one of the world's best according to Wine Spectator. The huge cellars feature well known vintages alongside many bottles from small vineyards. Taste Juan Antonio's pimento puree and Torta cheese ice cream with quince and olive oil. The price starts from £50 per person based on two people sharing and includes the viewing of the cellars and transport to and from Caceres, but excludes the meal.
In Spain, jamon is the nation's favourite nibble and the majority of the oak scattered pastures, which sustain the black Iberian pigs are in Extremadura. Trujillo Villas Espana can arrange a visit to a bodega or curing house, which has changed little over the years to see how the ham is made and then sample it fresh with some local pitarra wine. Then go to a traditional local market and buy the rest of the ingredients for supper. Browse stalls of wild asparagus, smoky paprika, red peppers, local cheeses such as the well known sheep's milk cheese Torta del Casar and black local honey. Prices start from £50 per person which includes transport and the tour of the jamon house.
The bespoke foodie experiences are available for guests staying in any of Trujillo Villas Espana's five properties, which are all within walking distance of the main square. The villas range from a one bedroom Artist's Studio with contemporary interiors to Villa Moritos, a restored Conquistador's mansion with swimming pool, sleeping eight people. Prices start from £110 per night in the Artist's Studio.
For more information and bookings visit:
trujillovillasespana.com/bespoke-spanish-food-trips-in-extremadura