easyJet launches only direct flight between Ireland and Iceland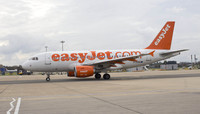 easyJet has launched the first direct service between Belfast and Reykjavik.
The flight operates twice per week on Mondays and Fridays on a 156 seater Airbus A319 and is the only direct service between the two destinations. Over 30,000 passengers are expected to use the new service during the first 12 months. Fares start from £31.99 one way per person.
Tourism in Iceland has increased by 40% over the last two years, helped by the introduction of affordable flights. This new service is easyJet's seventh direct flight to Reykjavik providing easy and affordable access to Iceland's stunning scenery, views of the northern lights, volcano and whale watching tours as well as the vibrant nightlife of the capital.
Ali Gayward, easyJet's Head of Ireland, said: "We are really excited to have launched Ireland's first direct connection from Belfast International Airport to Reykjavik today. This new year round service will bring the number of easyJet flights to Iceland up to 26 a week and we will carry in excess of 200,000 passengers per year to and from Reykjavik across all of these flights. Over 30,000 of these are expected to originate from Belfast. "
"It is a particularly exciting addition to our base at Belfast International due to the eclectic mix of activities and scenery on offer and we are confident that it will provide a popular addition to easyJet's network.
"We remain committed to expanding our network from Belfast and last month announced that we would be adding services to Split commencing from June 2015"
Graham Keddie Managing Director, Belfast International Airport, said: "The new easyJet service from Belfast International to Reykjavik is another exciting addition to our routes. It opens up direct channels for Icelandic tourists to visit the island of Ireland via Belfast and, with the expectation of 30,000 passengers, will add welcome revenue to the local economy.
Our main priority is to invest in the provision of new and vital direct access channels from key source markets and the introduction of this new service, the only air link between the island of Ireland and Iceland, is a positive result for the airport."
Since introducing their first flight to London Luton 16 years ago easyJet has flown over 32 million passengers to and from Belfast International Airport and is now Northern Ireland's largest airline.
Additionally, from February 2015 easyJet's Belfast operation will grow further with the addition of 34 extra flights between Liverpool and Belfast. This will mean that easyJet will operate 78 flights between the two cities per week.
easyJet serves 27 destinations from Belfast International Airport and employs over 230 staff locally.
For more information about the new flights or easyJet's network from Northern Ireland visit easyJet.com.
About Reykjavik: Reykjavik, Iceland's beautiful capital city, is the perfect destination for adventurers looking for a completely unique city break. Surrounded by majestic waterfalls, glaciers and volcanoes, the city itself is steeped in history and culture, while the nearby beaches offer amazing experiences for the whole family. Iceland's location means the country is also ideal for seeing the Northern Lights from Autumn to Spring, while in Summer the sun sets for just a few minutes, if at all, creating a dramatic setting for your Reykjavik holiday.
The Arctic location is ideal for a whale-watching tour around Reykjavík's Faxaflói bay that is home to Minkes and Humpbacks. There have also been sightings of dolphins and sharks in the area.
On the outskirts of the city, horse riding is a popular way to see the dramatic Icelandic landscape, and a good opportunity to see some of the surrounding wildlife. Hiking tours are also popular around the mountains.
Inside the city, the geothermal swimming pools and spas are popular throughout the year, and there is a wealth of museums and architecturally beautiful buildings to discover.