Linden Homes hosts a festive get together for new neighbours in Leicestershire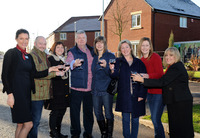 With research showing that only one in three Brits introduces themselves to their neighbours when moving house, new homes residents are bucking the not-so-neighbourly trend.

Customers moving into Linden Homes Midlands' new Leicestershire development were invited to a festive meet the neighbours event for seasonal refreshments and the chance to say 'hello'.

The informal get together was hosted by the Linden Homes sales team in the show home of The Limes at Sapcote in the run up to Christmas.

A number of residents will be celebrating Christmas in their new home, including Rachel Small and Glynn Hill.

The couple, who got engaged a year ago, moved to Sapcote from Leicester City Centre after seeing The Limes development evolve from its early stages and decided to register their interest and then reserve from plan.

Rachel (44) said: "We had been driving around the area, saw the development in its early stages and registered on the website. We were contacted by Linden Homes and when we came to visit really liked the development, the plot and specifically the layout of this property.

"The buying process was very straight forward, we used the mortgage advisors recommended by Linden Homes and we got regular updates every few days throughout the whole process, even if there was no update we would get a call or email so we always knew what was happening."

And having had the chance to kick off the festive season by meeting other new residents, Rachel and Glynn are now looking forward to their first Christmas in their spacious new home.

Rachel added: "It's great and we couldn't be happier, we got engaged last Christmas and so this is a great start to our future together."

Linden Homes sales executive Dawn Bailey said: "It was a really nice informal and relaxed get together to give those customers who haven't yet met each other the chance to break the ice.

The most recent national study into the subject suggests that a large percentage of us are 'too busy' to make ourselves known to those who live nearest to us, while others fear they will 'have nothing in common'.

One in five have only met neighbours to ask to take parcels or water plants, and a
quarter of people do not know the names of the people living next door.

Dawn added: "It is important to us that all our residents have an opportunity to get to know each other, they are after all the foundations of a new community."

The Limes offers a range of 128 two, three and four-bedrooms homes, with prices currently starting from £174,950.

Sapcote enjoys the best of both worlds – offering a village lifestyle while being just four miles from Hinckley and 12 miles from Leicester.

The show homes and sales and marketing suite are open daily from 10.30am until 5pm. Alternatively, visit lindenhomes.co.uk.