60th anniversary celebrations at Aston Martin Works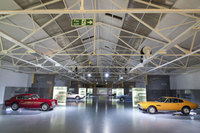 Hundreds of VIP customers and guests were in Newport Pagnell on Friday last week (12 December) for the launch of Aston Martin Works' 60th anniversary celebrations.
More than 400 guests from across the UK and continental Europe made their way to the historic home of Aston Martin for the pre-Christmas party – which also marked the launch of the dealership's exclusive 60th Anniversary Limited Edition Vanquish sports car.
Just six of the 60th Anniversary edition Vanquish models – created by the Aston Martin design team and the brand's bespoke personalisation service, Q by Aston Martin – will be built, and the majority have already been snapped up by collectors keen to own a piece of Works' heritage.
Stars of the show at the launch event in Buckinghamshire on Friday also included a number of the rarest and most sought-after Aston Martin models, with pride of place shared by cars selected to reflect the brand's six decade-long association with Newport Pagnell.
Among the cars on display was an iconic Aston Martin DB5; the DBS which starred alongside Tony Curtis and Roger Moore in 70s TV show The Persuaders; and an original Vanquish – the last model to be made at the Newport Pagnell factory before production moved to the brand's headquarters in Gaydon, Warwickshire, in 2007.
Announcing the launch of the 60th anniversary celebrations and revealing the limited edition sports car, Aston Martin Works Commercial Director, Paul Spires, said: "Designed by Marek Reichman and his team these limited edition Vanquish sports cars are a celebration of 60 glorious years of Aston Martin at Newport Pagnell.
"Strictly limited to just six cars, each one representing a decade of our operations here, these are truly ultra-rare collectors' items and a fitting beginning to our year-long celebrations."
Aston Martin Works will be holding a number of anniversary celebration events throughout 2015, and full details of all the activities will be announced over the months ahead.