Wales Trails encourages visitors to park the car and enjoy the Welsh scenery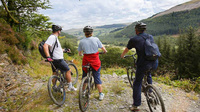 Visitors to Wales are being encouraged to park their car and explore the fantastic country by train, cycle or on foot in a new sustainable transport and tourism initiative.
Show Me 'Wales Trails', which aims to enhance the car free visitor experience in Wales, was launched at the annual meeting of MWT, an independent organisation that represents around 600 tourism and hospitality businesses across Mid Wales, held at Powis Castle, Welshpool.
Tourism businesses heard that it was the perfect time to launch the initiative with new train services due to start between the Cambrian Coast and the West Midlands in May.
Featuring three of Wales' most scenic railways - Conwy Valley Line, Cambrian Lines and Heart of Wales Line – the Wales Coast Path and national walking and cycling routes, Show Me 'Wales Trails' aims to make it easier for visitors to identify accessible things to do and places to visit and stay in towns and villages. A new website has been developed and a Wales Trails app is now available to download.
Funding partners for this project were MWT, Visit Wales, Cambrian Railway Partnership, Tourism Partnership Mid Wales and the EU, via Visit Wales Digital Scheme.
Show Me 'Wales Trails' has its origins in a tourism marketing initiative launched by MWT and the Cambrian Railways Partnership back in 2010, which was designed to attract more short break visitors to the region by train. A key part of the original project was to offer train passengers discounted accommodation in Mid Wales at participating businesses.
MWT secured funding to take the project a step further by developing a Wales Trails app, online interactive map and itineraries of things to do and places to visit.
"The scenic rail routes of Wales provide stunning views, comfortable seats and excellent value and are a great way to explore Wales," said MWT's chief executive Val Hawkins.
The project shows that railways and cycling and walking routes can help visitors enjoy the beautiful Welsh coastline, mountains, castles and countryside without a car and there's a vast array of fascinating places, attractions and events to explore.
A bilingual, business card sized pocket guide has been produced with a map of the rail routes and connections together with information about Glyndwr's Castles, Cardigan Bay beaches, cycling and mountain bike routes, Glyndwr's Way walking trail, charming market towns, Britain's smallest town, Llanwrtyd Wells and Devil's Bridge and the Vale of Rheidol Railway.
Free postcards are available at railway stations and at places to stay along the railways and posters promoting 'Rail Trails' are displayed at railway stations outside Wales. Guest accommodation and tourism attractions along the three scenic railway routes are encouraged to take advantage of the Rail Trails promotion by offering discounts to visitors who drive by train.
MWT's website – showmewales.co.uk – features a travel section including Rail Trails, itineraries and travel information. Visitors can download Wales Trails itineraries in two formats – online and in printable pdf. To date 16 itineraries have been developed, based primarily around the Rail Trails.
A web-based, interactive map featuring rail trails, heritage railways and cycle and walking trails have also been developed and a Wales Trails app, available to download at Google Play and iTunes, shows places of interest, things to do and places to eat.
The new app is not a tool for detailed trip planning; it's designed to help visitors discover car-free options for a day trip or longer stay. A visitor may decide to travel by train to a selected point, then walk a section of the beautiful Wales Coast Path or jump on a bike to follow part of a cycle trail before heading home by rail.
For cyclists, there are National Cycle Network trails – Lon Cambria and Lon Teifi, Lon Las Cymru North and the Celtic Trail – that offer a fantastic mixture of traffic-free rides and challenging adventures. For visitors who prefer to explore on foot, there are three long distance walking trails: Glyndwr's Way National Trail, Offa's Dyke Path and Wales Coast Path.
The app is very easy to use with Trail, Map and Directions icons. Each Trail features numbered hubs or 'Way markers', which provide lots of useful visitor information. GPS enables visitors to find information in the immediate vicinity and the data is fully cached on the phone so visitors don't need a signal to use it. Points of interest entries describe the attraction with images, opening times, directions and contact details.
Mrs Hawkins said the future development of Show Me 'Wales Trails' could incorporate coach and bus options, which were outside the scope of the initial project.
She appealed to tourism businesses to make visitors aware that they can explore Wales by rail, cycle or on foot and she said she hoped they will make full use of the online and print resources.
Ben Davies, Arriva Trains Wales' external affairs manager, said Arriva Trains Wales were delighted to be involved in the "fantastic" project, which was a good example of the private and public sectors working together to attract visitors.
He said 2015 would herald an exciting time for Mid Wales with the arrival of extra trains between Aberystwyth and Shrewsbury and along the Cambrian Coast from May. "My job now is to get as many tourists as I can from the West Midlands to come to Mid Wales by train," he added.
Rhydian Mason, Cambrian Railways Partnership's rail development officer, said it was the perfect time to launch Show Me Wales Trails with nine additional train services being launched from next May.
There would be a peak time hourly service between Aberystwyth and Shrewsbury and a full two hourly service for the Cambrian Coast, with half the services terminating at Birmingham International Airport, which should prove attractive to international visitors.
"By working in partnership with MWT and the Welsh Government we can really capitalise on these extra services," he added. "After campaigning for so long, we must ensure that they are successful."