Detox from the digital age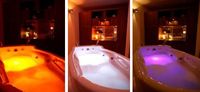 Water is synonymous with healing and the age we live in is constantly fast paced and hectic. Many people rely on a hot bath to relieve stresses and strains – celebrity favourite eco spa, Titanic Spa is offering one better - introducing The Hydrobath Collection. Choose from one of four sensational and exclusive bathing treatments. The healing and nurturing feeling of being cocooned within a bath offers an abundance of therapeutic benefits to the human body. Powerful jets combine with aromatic oils to create a rare and luxurious sensation. To heighten the experience, seaweed can be added to the state of the art hydrotherapy bath to ensure even better results.
The Decléor Detox Bath… £45.00 per person
Switch off your mobile, leave your laptop at the door, un-robe and sink in… this detox bath promises a detoxifying sensation not just for the body but also for the mind. The aromatherapy oils will work to unwind all the pent up stress in the mind whilst simultaneously aiding slimming.
The Elemis Aroma Bath… £45.00 per person
Calm the senses and condition the skin with a combination of Elemis aroma bath oils. The oils aid the stimulating of circulation and blood flow, which can open the body's cells to deep cleansing.
The Underwater Lymphatic Drainage Massage… £65.00 per person
A full body lymphatic underwater massage to treat cellulite, reduce water retention and smooth spongy looking skin. As the water gently pummels the body with the power jets the body will sink into utter relaxation.
Underwater Anti-Stress Massage… £65.00 per person
An oxygenating and nourishing deep tissue underwater massage to activate circulation, balance the nervous system and release muscular tension. This ultra-soothing bath treatment will ensure you leave feeling completely zoned out – a million miles from any rrevious stresses you felt when you stepped in!
For bookings or further information on Titanic Spa, visit titanicspa.com.