Last chance to buy in Birstall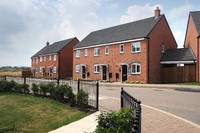 A residential development in Birstall is exceeding all expectations with only a handful of homes now remaining for sale.
Buyers have been quick to snap up properties at the development, which is being built by Persimmon Homes North Midlands.
Saxon Gate, in Hallam Fields Road, has a range of three and four-bedroom homes which have appealed to a wide-cross section of buyers. Only a handful of properties now remain, including two different designs of three storey homes.
Sherrie Hankin, head of sales for Persimmon Homes North Midlands, said: "Saxon Gate has been a delightful development to work on as you can already see how a great community spirit is developing there.
"Birstall is a great location only minutes away from everything a family needs, whether it's a shopping spree at the nearby Thurmaston shopping centre or food shopping at a large supermarket, to enjoying the designer shops, restaurants and bars in Leicester or a peaceful family day out at Watermeads Country Park.
"The area also has great commuter link, so it is easy to see why Saxon Gate has proved so popular. We would urge people to hurry if they want to live there."
She added that three storey homes are proving particularly popular as they add another floor of flexible living space, including large master bedrooms on the top floor.
She added: "The Government-backed Help to Buy scheme has also appealed to many buyers. Our sales advisors are on hand to help people through the whole process and say there is great delight when a buyer realises how far their money can go."
Under the scheme, people buying a new-build home only need a five per cent deposit along with a 75 per cent mortgage while the Government supplies a 20 per cent equity loan, which is interest and repayment free for the first five years.