Design Revolution: The new Skoda Superb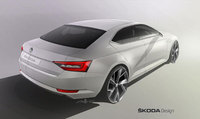 The new Skoda Superb revolutionises the familiar Skoda design language. A new sketch shows an expressively designed saloon full of class and passion. The design is sophisticated, elegant, dynamic, discrete, modern and expressive.
The new Skoda flagship has striking, expressive shapes from the 'Skoda VisionC' show car with new, dynamic proportions. From the front to the rear, from the large wheels to the gently rearward-sloping roof line, the new Superb features clear geometry, strikingly contoured surfaces, sculptural shapes, purist precision and elegant lines as if made from one piece.
With its expressive exterior, the top Skoda model makes a visual impact in the automotive mid-class segment, offering a sharp and muscular look that is more poised and full of emotion than ever before. The expressive shapes of the exterior can also be found echoed inside the car.
The new model takes the Skoda Superb to the higher level of the automotive mid-class segment. The third generation model is expected to get new customers interested in both the brand and model. The new Skoda Superb will make its world premiere in Prague in the middle of February 2015, followed by its introduction at the Geneva Motor Show in March. The market launch is planned for mid-2015 for Europe, and autumn for the UK.