Happy New Year... from Spain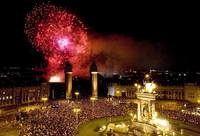 Nearly half of Brits will spend New Year's Eve away from home this year, with 48% announcing they will be ringing in 2015 elsewhere. A survey by Hotels.com has found one in five (19%) of us have even boasted they will be celebrating the New Year abroad, making it one of the most popular times for Brits to be flying away.
Spain topped the list of the most popular New Year's Eve destinations for Europeans, while the US and Germany came in second and third place respectively. The UK came in fifth place out of a total of 53 destinations, making it a popular choice among European revelers.
The survey of over 8,000 respondents around the world also discovered that the US is the most popular holiday destination for 2015. When asked to name their wishlist destination next year, the US came out on top with 13% of the total votes amongst 69 different countries nominated. Spain came in at a popular second with 11% and in third place was Italy with 7% of the overall results. The remaining 69% was split down between the remaining 66 destinations put forward.
Lizann Peppard of the Hotels.com brand said: "It's interesting to see that so many people are planning on travelling over the New Year, not just in this country but also overseas. With celebrations taking place around the world, it's a great time to make a quick getaway and try somewhere new. Many people will be starting to plan their main 2015 holiday soon too with more travel surely at the top of the New Year's resolutions!"
Top Ten New Year Destinations for 2014
Rank - Country
1 Spain
2 USA
3 Germany
4 France
5 Thailand
6 UK
7 Italy
8 Austria
9 Australia
10 New Zealand
Top Ten Wish List Destinations For 2015
Rank - Country
1 USA
2 Spain
3 Italy
4 Thailand
5 Australia
6 France
7 Finland
8 UK
9 Greece
10 New Zealand