MINI celebrates record UK sales in 2014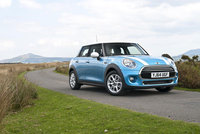 MINI recorded record sales in the UK in 2014. In total, 53,661 MINI models found homes with UK buyers last year – 1,728 (3.3 per cent) more than the previous record set in 2013. MINI's market share in the UK was 2.17 per cent, making it the biggest market for the brand in the world (by that measure).
The New MINI 3-Door Hatch, launched in March, continued to be the brand's biggest seller. Alongside its all-new stablemate, the MINI 5-Door Hatch, more than 28,000 were sold last year (3-Door Hatch: 24,200 and 5-Door Hatch: 3,800). The introduction of the first-for-brand MINI 5-Door Hatch in October also saw a dramatic increase in the brand's fleet sales – up 17 per cent year-on-year.
Elsewhere in the range, there was also a record sales year for the recently refreshed MINI Paceman. More than 4,000 were sold in 2014, which is 25 per cent more than the previous 12-month period. The Countryman had yet another strong year in the UK selling 14,169 units. While this isn't a record sales figure for Countryman (14,864 were sold in 2013), it does prove that British buyers have truly taken the compact SUV to their hearts.
Chris Brownridge, Director, MINI UK, said: "This sales performance is all the more remarkable when you consider that the New MINI 3-Door Hatch – the mainstay of the MINI range – only launched in March 2014. When it arrived in showrooms, however, buyers couldn't get enough of the iconic model.
"The great sales result last year takes the total number of MINIs sold in the UK since 2001 to nearly 600,000 – proving that the British love affair with the brand is not only alive and well, but blossoming."
This momentum looks set to continue into 2015 with a UK order bank that's 100 per cent larger than the same period last year and the global public unveiling of the MINI John Cooper Works at next week's Detroit Auto Show.
Packing the most powerful engine ever for a production MINI – a 2.0-litre unit delivering 231 hp and 320 Nm – the JCW delivers 10 per cent more power and 23 per cent more torque than the previous model. This brings the 0-62 mph time down to 6.1 seconds.