Jeep's meteoric climb continues as 2014 sales soar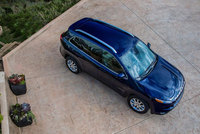 Jeep's continued popularity in the UK is illustrated in this week's new car registrations figures, which show another outstanding year for the legendary 4x4 brand, including a run of 16 consecutive months of year-on-year sales growth.
The iconic off-roader registered 3,899 sales in 2014, up 75 per cent compared with 2013's results. The figures follow in line with Jeep's global announcement this week (7 January) that the company had achieved more than one million sales during 2014, while recording a fifth consecutive year of sales increases.
The largest model in the current Jeep range, Grand Cherokee, performed exceptionally well in the UK again, with sales up 40.3 per cent compared with 2013, while the new Jeep Cherokee – the Scottish Motoring Writers' SUV of the Year – sold 1346 units in the six months since launch, according to figures supplied by the Society of Motor Manufacturers and Traders (SMMT). The Jeep Compass accounted for 457 sales and the Jeep Wrangler 427.
"The sales figures for 2014 are fantastic news for the Jeep brand as a whole," says Damien Dally, head of brand, Jeep UK. "A global figure of over one million sales for Jeep is a remarkable effort and I am delighted we in the UK have been able to help towards that total.
"With new Jeep Renegade just about to be launched in the UK, and with more, exciting developments to come from the other models in the range, I am confident we will continue this current upward trend."