Alastair Moffatt slides the Fiat 500 into a new Guinness World Record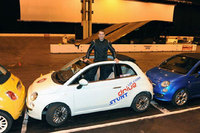 Globally-renowned stunt driver Alastair Moffatt has reclaimed his Guinness World Record* for the Tightest Parallel Park during the Performance Car Show at the 2015 Autosport International Racing Car Show (January 8-11, NEC Birmingham).
Driving a FIAT 500C 1.2 Cult, Alastair was able to execute the astonishing parking manoeuvre, sliding neatly between a FIAT 500S TwinAir 105hp and a FIAT 500C Colour Therapy TwinAir 85hp, with a mere 7.5cm to spare. The vehicles used are all completely standard, with no modifications made the engines, gearboxes, chassis or brakes. The ESC had to be disconnected to allow the FIAT 500 to be controlled using the handbrake, and the tyre pressures were also increased to compensate for the abrasiveness of the surface. Alistair also added a steering knob to facilitate this extreme driving manoeuvre.
Alastair, a Master Instructor at Stunt Drive UK, previously held the Guinness World Record for the Tightest Parallel Park at 8.6cm and also has records for Tightest Double Parallel Park and Tightest Triple Parallel Park.
Commenting on his achievement, Alastair noted, "It's wonderful to have my record back! With the gap getting ever smaller, finding the right vehicle is increasingly important, so the light weight, agility, dimensions and parking-friendly shape of the FIAT 500 makes it perfect to getting into even the tightest parking spots." Alistair's astounding display of precision driving will be repeated during each Performance Car demonstration throughout the weekend.
Kate McLaren for FIAT UK commented, "We're delighted that Alastair chose the FIAT 500 to reclaim his parking crown and we congratulate him on his remarkable achievement! Obviously, we don't recommend that people attempt such amazing manoeuvres in public, but it's good to know just how manoeuvrable a FIAT 500 really is in the hands of a trained professional."
The FIAT 500 is the best-selling vehicle in its segment in Europe and benefitted from a comprehensive refresh in 2014, including the addition of the new Cult trim level, segment-first TFT instruments, improved safety specification and the new TwinAir 105hp engine with a six-speed transmission. Prices start at £10,420 OTR for the FIAT 500 1.2 Pop.
*Subject to official confirmation.