Canny couples warm to winter weddings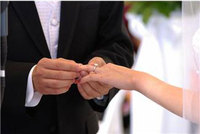 The face of the traditional wedding is changing as couples look to save on the soaring cost of getting hitched by marrying 'off-peak'. New research from AA Loans amongst newlyweds reveals that one in three couples (37%) married in autumn or winter.
Unsurprisingly, the main reason that couples chose to marry at that time was because it was cheaper (22%). Overall, only 15% of newlyweds said they didn't try to budget for their big day.
The research shows that, on average, a summer wedding set couples back £9327.72. That's compared to the average winter wedding which cost £7234.53 – a saving of over £2000.
Newlyweds have come up with some other ways of saving money on their big day, whatever the time of year, including:
21% got married midweek or on a Sunday
19% made their own cake
19% made their own table decorations
16% had fewer guests at the ceremony and reception
15% delayed or went on a budget honeymoon
14% asked for money instead of presents
12% wore a second hand wedding dress or suit
9% asked the bridesmaids to buy their own dresses
7% got married abroad
Other newlyweds tried something a bit different such as: marrying on Friday 13th, making the wedding dress themselves, supplying their own wine and asking trainees to do the flowers and photography.
Paying for the wedding
The most common way to pay for a wedding is savings; more than two-thirds (68%) used theirs and almost half (45%) used money given to them by their parents. A third (32%) used spare cash in their bank account.
Worryingly, one in six (17%) funded their wedding with a payday loan. That's in comparison to more mainstream forms of credit used including credit cards (21%) and a personal loan (22%).
Mark Huggins, Director of AA Financial Services said: "For most people, a wedding is one of the most important days of their lives and no doubt they'll want to make it special; our research shows that you can do so without breaking the bank.
"Not everyone will have sufficient savings or have parents who are able to lend them money. Those who manage their money carefully may find a personal loan to be a good option, especially with interest rates at a record low. That's likely to be one of the reasons they're the fourth most popular way to pay for a wedding."