Will BBC 2 Wolf Hall series reveal the answer to Sherborne's own Tudor mystery?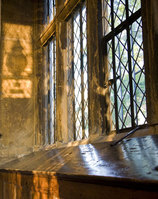 Historic Dorset town Sherborne was the location for several scenes in the BBC Two drama Wolf Hall which hits our TV screens over the next six weeks, with filming taking place at Sherborne School and other locations in the town. However what the producers of the film may not have known was just how closely Sherborne's history is intertwined with King Henry VIII and the fate of one of his notorious courtiers, poet and diplomat Thomas Wyatt, played in the series by actor Jack Lowden. A plaque marking Wyatt's burial place can be seen today in the floor of Sherborne Abbey – but does he lie beneath it?
Wolf Hall, an adaptation of Hilary Mantel's prize winning novel featuring actor Damian Lewis as Henry VIII and Mark Rylance as Henry VIII's scheming minister Thomas Cromwell, follows the complex machinations and back room dealings of Cromwell, Henry's pragmatic and accomplished power broker. A close friend of Thomas Cromwell, Thomas Wyatt competed with Henry VIII for the affections of Anne Boleyn.
In 1533, Henry VIII secretly married Anne Boleyn and three years later, Wyatt was arrested and imprisoned in the Tower of London. After his release Wyatt witnessed the execution of his friend and patron Thomas Cromwell in July 1540 and the following year he was accused of treasonable behaviour as an ambassador, and was again taken to the Tower, bound and handcuffed. Historians suspect the real issue may actually have been Wyatt's relationship with his mistress, Elizabeth Darrell, a Catholic and Maid of Honour to Katharine of Aragon. Again Wyatt was pardoned by the King – but also told that unless he gave up Darrell, and went back to his estranged wife, he would lose everything he possessed and be killed.
It has been suggested that in a bid to escape from the situation, Wyatt faked his own death at the home of his good friend Sir John Horsey who lived at Clifton Maybank, West Dorset. This is put forward by the poet Alice Oswald, in the introduction to a selection of Wyatt's poems (in Faber's Poet-to-Poet series). In October 1542 Wyatt was told by the King to go to Falmouth to meet an envoy sent by Emperor Charles V. The story is that Wyatt rode too fast, got overheated, caught a chill or a fever, and, stopping in West Dorset at Clifton Maybank, at the home of his friend Sir John Horsey, died and was quickly buried.
Alice Oswald writes: "Strangely, for a man of his status, he (Wyatt) was buried not in his own grave, but in his host's family tomb [in Sherborne Abbey]. His mistress, Elizabeth Darrell, whom he'd been forced to leave two years before, was living in Exeter, and I can't help wondering whether, on his way to the West Country, he decided to fake his own death to re-join her. The beauty of that idea is that it changes Wyatt's poem from a wish into a whispered decision:
'Stond who so list' in hidden place, so let my dayes forth passe, that when my yeares be done, withouten noyse, I maye die aged after the common trace…"
If this idea is true, then the plaque set in the floor of Sherborne Abbey is wrong. Wyatt is not buried there and a body is missing from the Horsey family tomb. For nearly 500 years Wyatt's daring plot has been a secret never even guessed at – until now.
Sherborne can expect even more interest when early Spring 2015 sees the release of the much anticipated Thomas Vinterberg adaptation of Hardy's fourth novel and first major literary success Far From the Madding Crowd. Starring A-listers Carey Mulligan, Tom Sturridge and Mathias Schoenaerts, film locations included Sherborne Abbey, Castleton Church and Abbey Close, the streets of which were transformed into an 1870s market square located in the town of Casterbridge.
Why can't Hollywood and independent film makers keep away from Sherborne? This small market town situated on the border between Dorset and Somerset punches well above its weight in so many ways. It boasts two magnificent castles, one of which was commissioned by Sir Walter Raleigh, a big star of his day in the 16th century and with magnificent grounds later crafted by Capability Brown; the other called The Old Castle, built in the 12th century, is now an impressive ruin providing the background for many a bracing walk and the odd wedding proposal!
There is also the gothic presence of fantastic Sherborne Abbey which goes back much further than its magnificent Perpendicular arches and famous fan-vaulting suggest. Tradition has it that King Alfred the Great was schooled here, and certainly his brothers King Ethelbald and King Ethelbert were buried (AD 860 and 865) in Sherborne Abbey. In more recent years The Sherborne Abbey Festival, an annual music festival taking place at the Abbey in early May, has become a regular fixture.
More recent celebrities associated with the Town include numerous alumni from historic Sherborne School, which, like the Abbey, has compelling architecture that provides a picturesque and atmospheric setting for big and small screen alike. The 16th century School boasts old boys like actor Jeremy Irons, Coldplay's Chris Martin and Downton Abbey star Hugh Bonneville.
Visiting actors, camera crew and film producers can choose from any number of independent coffee shops when relaxing between takes as well as the award winning Eastbury Hotel. Added to this there are many independent shops including lots of unusual boutiques and gift shops, an independent butcher, J & M Parsons which has served Sherborne since 1840, a 100 year old bakery and although there isn't a candlestick maker there is an independent iron monger or hardware shop – Abbey Décor. Visitors to the Town in recent years have spotted Daniel Craig and Rachel Weisz – both of whom live nearby - as well as Lord of the Rings actor Orlando Bloom and pop-star Will Young.
For further information, visit sherbornedorset.co.uk.