Go the distance on Exmoor this spring and try one of its long distance trails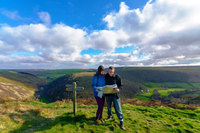 Celebrating the recent of announcement of an injection of £637,050 Government funding into West Somerset's Steam Coast Trail, Visit Exmoor looks at some of its other well-known Trails that provide a breath-taking network of multi—user paths for walkers, cyclists, runners and in many cases wheelchair users.
The Steam Coast Trail will provide a multi-use coastal path between Minehead and Williton, creating a traffic-free route open to walkers and cyclists between Minehead, Dunster, Carhampton, Blue Anchor, Washford, Watchet and Williton. It will weave walkers, cyclists, runners and wheelchair users through 36km of glorious countryside and in and out of picturesque heritage towns and railway villages. Find out more at: steamcoasttrail.org.
There are already five very popular Trails criss-crossing the amazing Exmoor landscape and probably the best known of all is the South West Coast Path. It's the country's longest path and it starts by traversing the rugged coastline of Exmoor. The total length is 630 miles from Minehead to Poole Harbour via Lands' End. The first section across Exmoor is widely acknowledged as one of the highlights and this can usually be completed in three days from Minehead to Combe Martin.
For those who like to link some culture to their outdoor activities, The Coleridge Way is the perfect walk for fans of the Romantic Poets. At 51 miles this is a great introduction to long distance walking and links the Quantock Hills with Exmoor National Park charting the paths that the likes of Samuel Taylor Coleridge, Wordsworth, Shelley and Byron followed while writing some of their most influential works. The original route opened in 2007 running a total of 36 miles from Nether Stowey to Porlock. In 2014 an extension was added to make a walk 51miles in total length running between Nether Stowey and Lynmouth.
The route starts at Nether Stowey where Coleridge once lived, passing through the Quantock and Brendon hills before traversing the high moorland of Exmoor. The route then drops down to picturesque Porlock before heading inland via the wild Doone Valley and finishing on the coast at the pretty harbour side of Lynmouth. There is an optional short extension to Poets Corner high above in the Valley of Rocks. For more information: coleridgeway.co.uk
For experienced horse riders, there is also The Coleridge Way Bridleway, a route open to horse riders and cyclists as well as walkers. Much of it follows the same route as the walking route, other than a short section on the Brendon Hills and the final route from Wheddon Cross which instead of skirting the east side of Dunkery Beacon follows the southern slopes and finishes in the village of Exford which is a traditional centre for riding within Exmoor.
Having followed the Coleridge Way to Lynmouth keen walkers will find two other Trails. They can start the 103 miles Two Moors Way heading inland across Exmoor and Mid Devon before entering and crossing Dartmoor National Park all the way to Ivybridge. For more details visit: devon.gov.uk/walking/two_moors_way. Or they may choose the even longer 163 mile Tarka Trail, which can also be picked up at Lynmouth and some of which coincides with the Two Moors Way. The Tarka Trail is a figure of eight route - allowing walkers to tackle this 180 mile route in two stages from the same point! The waymarked trail follows the route taken by Tarka the Otter, written by Henry Williamson and passing through numerous towns including Barnstaple, Bideford, Torrington, Okehampton, Lynmouth and Ilfracombe. See: devon.gov.uk/tarkatrail for more details.
Finally the Exe Valley Way traces the route of the River Exe from its source in the heights of Exmoor to the mouth of the Exe Valley and the estuary. At 45 miles long the trail passes through a range of small villages and market towns as well as the city of Exeter.
Many attempting a long distance hike have the perfect excuse to stop off and sample some of the wonderful hostelries, guest houses and B&Bs to be found on Exmoor. Visitors can go to the new Visit Exmoor website: visit-exmoor.co.uk where they will find perfect places to stay as well as a number of suggestions for stop off points to sample local food and drink.
To get visitors in the mood for some long distance hikes, Exmoor is holding its annual Walking Festival from 2 – 9 May: visit-exmoor.co.uk/point-of-interest/walking-festival providing a selection of guided walks with friendly, knowledgeable guides.