£70 million development plans on three new sites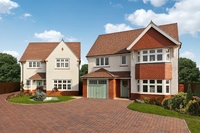 With plans for almost 300 new homes across three new Midlands' sites, Redrow will be building on its success.
In total, the proposed developments in Hinckley, Tamworth, and Shropshire will have a finished sales value of circa £70 million.
The latest land acquisitions come at a time when Redrow is enjoying record levels of activity across England and Wales. In February the company reported half year legal completions up 18% to 1,850, the average number of outlets increased to 101, from 93, and a record number of UK employees at 1,550.
Darren Turk, managing director for Redrow Homes (Midlands), says: "Redrow has been established over 40 years and builds around 3,500 homes each year across England and Wales. We're recognised as a quality builder and have a reputation for building homes that people really want to live in. The success we've enjoyed nationally is reflected in the Midlands region where we've recently sold out at a number of our developments or only limited availability remains. Our strategy to grow the business is to increase the number of sales outlets.
"Subject to planning we'll be launching three new developments in the western patch of our Midlands division over the coming months. Between them they will offer 281 homes in a variety of sizes and styles to meet a wide breadth of customer demand. They will also contribute to meeting the country's acknowledged shortfall in new housing."
In Coventry Road, Hinckley, work is now underway to bring a former commercial and industrial site back into good use. Redrow has planning permission for 122 homes including 106 properties for private sale and 16 affordable homes. The development is expected to have a finished sales value of just under £29m. As part of its plans for the site, Redrow has agreed to invest around £400,000 in the local area including contributions to public open space, education and the creation of a pedestrian crossing.
The award-winning homebuilder is also expanding its portfolio in Shropshire where it has planning permission for 65 homes at The Uplands on Wolverhampton Road, Shifnal, just half a mile from the existing Aston Fields development. Building work at The Uplands is due to start in April. A number of mature trees will be retained and will become a feature of the public open space. As a result of the development the local area will benefit from a community infrastructure levy of £350,000, plus a travel contribution of £200,000. The development is expected to have a finished sales value of £21m. There will be 55 homes for private sale and 10 affordable properties.
Closer to home and visible from its divisional headquarters at Kinsall Green, Wilnecote, in Tamworth, Redrow has applied to build 94 properties on a vacant parcel of land on Pennine Way. The development will include 28 affordable homes and is anticipated to have a finished sales value of £20m. Community contributions totalling £350,000 have been agreed including investment in education, travel and public open space.
There are several other sites in the pipeline.
"Our new developments will bring investment that will benefit those who already live in these neighbourhoods as well as the people who buy our new homes," Darren adds. "They will also have a positive impact on the local economy with industry statistics showing that 1.5 full time jobs are created for every home built - and that's not including jobs in the supply chain."
To find out more about where Redrow is building see redrow.co.uk or for details of career opportunities with the company see redrowcareers.co.uk.