HPI adds MOT and tax data to trade HPI checks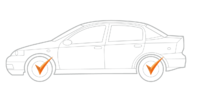 Automotive technology solutions provider, HPI, is bringing dealers a new level of insight into the potential cost of vehicle acquisition and resale, with the addition of MOT and Tax information to its vehicle provenance and mileage verification services for the motor trade.
In addition to confirming if the vehicle is Taxed or untaxed and the due date, HPI will give dealers an overview of the vehicle's 6 and 12 month Tax rates, as well as monthly direct debit costs for 6 and 12 months, where applicable. HPI will also confirm if a vehicle has a current or expired MOT, its expiry date or if no details are held by the DVLA.
"The addition of MOT and Tax data, means HPI continues to bring dealers the fullest possible picture of a used vehicle, helping them understand the financial implications of investing in or part exchanging stock," explains Neil Hodson, Managing Director for HPI. "As margins are squeezed tighter and tighter, dealers need to take advantage of the wealth of data now available to them. By listening to the needs of used car dealers, HPI delivers the data they need to ensure they can protect their bottom line against unexpected costs and boost sales, in a tough market."