Audi TT secures best sportscar accolade in diesel car awards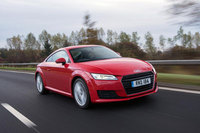 Sports car desirability and agility with far fewer visits to the filling station – this is the genuinely winning formula which has just secured the frugal Audi TT TDI ultra the 'Best Sportscar' accolade in the 2015 DieselCar Magazine Awards.
"Despite evolving over the years, the shape of the Audi TT remains as one of the most instantly recognisable cars on the road, as well as being highly desirable," explains DieselCar Magazine Editor and Publisher, Ian Robertson.
In the ultra version of the acclaimed aluminium and steel composite-bodied Coupé the impressive 184PS output from the 2.0-litre TDI engine is bolstered by peak torque of 380Nm available between 1,750 – 3,250rpm, accounting for impressive in-gear performance which is closely matched to its TFSI counterparts. Acceleration to 62mph is dealt with in 7.1 seconds on the way to a maximum speed of 149mph. The potential for over 62mpg is also combined with the added benefit of a BIK threshold of just 21 per cent – the lowest in the TT model range – and a VED rating in band C (free for the first year and only £30 thereafter).
The centrepiece of the cutting-edge TT interior is the Audi Virtual Cockpit, a 12.3-inch TFT screen which uses the latest NVidia Tegra 30 graphics processor to display crystal clear media graphics and infotainment menus in full-screen when required. The Virtual Cockpit is fitted as standard to all models, and crystal-clear navigation mapping can be optionally specified as part of the Technology Package, which also equips the system with a multitude of Audi Connect 4G Internet services.
Commenting on the award, Audi TT and A3 Product Manager Julie Salsbury said: "The new TT is now more focused than ever before, drawing on the huge success of its iconic predecessors and incorporating up-to-the-minute technology. Our jewel in our crown – the new TDI ultra model – encapsulates this sportscar DNA with the added advantage of remarkable efficiency, and it's tremendously encouraging to have these attributes recognised by the go-to publication on diesel cars."
Pricing starts from £29,810 OTR for the TT Coupé 2.0 TDI ultra Sport, rising to £31,995 OTR for the all-new Roadster version, and both are available to order in UK Centres now.