Friends and family first to go as couples cut wedding costs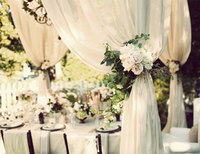 Cutting the wedding guest list is the UK's favoured option when it comes to reducing the costs of getting married, new research from Nationwide Building Society shows, with women around 10 per cent more likely to reduce the numbers of family and friends than men.
The national survey, which polled 2,000 adults who were either married or in a civil partnership, shows the average amount spent on tying the knot (both weddings and civil partnerships) is around £7,500, although more than one in five couples (22%) spends in excess of £10,000. People aged 25-34 spend the most on average (£11,204), with the amount spent steadily declining as people get married later in life - the research shows nearly half of those getting married aged 55 and above (48%) spend £1,000 or less on their nuptials.
However, with many people not having set aside enough savings for the big day, many couples could be forced to scale back their wedding plans. Nationwide's research reveals that 25 per cent of those surveyed raided their current account to pay for it, while more than one in ten (14%) used their credit card.
The survey shows that six in ten couples (59%) have had to curb their plans, with the wedding list often the first casualty of any cutbacks. Conversely, the least likely item to undergo cost cuts are the wedding rings, perhaps because they are intended as a lifetime investment.
The most and least popular options for reducing the overall cost of a wedding are:
Most likely to be reduced/ downgraded:
Number of guests: 37%
Car: 37%
Dress: 33%
Paid bar: 33%
Food: 27%
Least likely to be reduced/ downgraded:
Flowers: 18%
Cake: 17%
Wedding party gifts: 17%
Suits: 16%
Rings: 12%
Regionally, there is a significant difference in the amount people spend on weddings and civil partnerships, with London being the only area where the average spend exceeds £10,000. This is more than £4,400 higher than in the area of lowest spend – East Anglia – where the average wedding spend is £5,655, the research shows. The UK regional averages are as follows:
Average wedding spend by region:
London: £10,065
West Midlands: £9,289
Northern Ireland: £9,134
East Midlands: £7,673
North East: £7,152
Scotland: £6,815
Wales: £6,209
North West £6,174
South East: £6,157
Yorkshire and the Humber: £6,152
South West: £5,828
East Anglia: £5,655
Phil Smith, Nationwide's Head of Current Accounts, said: "A wedding is one of life's major investments and understandably people want to have a memorable day, no matter what their budget is. We would always encourage people to start planning and saving as soon as possible so that all associated costs can be taken into account. That way, when the big day approaches, you won't be left out of pocket through dipping into your current account.
"Current accounts should ideally serve for day-to-day spending rather than panic plundering. That said, anyone approaching their wedding will undoubtedly face last-minute cost issues, and your bank account or overdraft is a natural and convenient choice for covering these."