Jaguar F-Type performs parachute test for Bloodhound SSC record attempt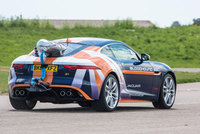 Jaguar and the world land speed record holder RAF Wing Commander Andy Green performed vital high-speed parachute tests as part of the company's on-going technical support for this unique engineering adventure: creating a car that can cover a mile in just 3.6 seconds.
The jet and rocket powered car, which aims to surpass the current record of 763.035mph before targeting 1000mph, has multiple braking systems including air-brakes ('doors' mounted on the side of the car which open to increase aerodynamic drag) and disc brakes (used when slowing down from 200mph). In addition, the driver has two back-up parachutes to ensure that the 135,000thp (thrust horse power) vehicle will slow down before the end of its 12-mile track in Hakskeen Pan, South Africa.
Stopping, quickly and controllably, is as important to setting a record as going fast. After the first run Andy must bring Bloodhound SSC to a halt exactly in front of Turnaround Team, who will be waiting to prepare the car for its return run in the opposite direction. This has to take place within one hour. In the 1997 record attempt, the Thrust SSC team missed a record by less than one minute because the turnaround over-ran.
To test this system ahead of the car's first run, Jaguar, a technical partner to the project, fitted it to an F-TYPE R Coupé and ran it on a former military runway to over 180mph before firing the parachute.
Green, who was at the wheel for the test, said: "Bloodhound SSC is fitted with both airbrakes and parachutes to provide guaranteed stopping power under all conditions. Each of these systems is safety-critical and each needs to be tested to ensure it will work safely, every time it's needed.
"Being able to validate the parachute systems in a safe and controlled manner using a high performance Jaguar F-TYPE sports car gives great confidence to both me and Bloodhound's Engineering Team."
The test took place at the former RAF base in Bentwaters, Suffolk using an F-TYPE R Coupé with a modified rear window and structural supports through which Bloodhound's unique teardrop shaped parachute cans were mounted directly to the car's chassis.
Green released the parachute using a cockpit-mounted button, subjecting the F-TYPE to an instantaneous drag force equivalent to one tonne that dramatically slowed the car before Green brought it to a controlled stop.
The stability of the F-TYPE Coupé and its dynamic ability - it will reach 60mph in just 3.9-seconds with a limited top speed of 186mph - enabled the successful completion of a vital test for the Bloodhound SSC team and SES, Bloodhound's parachute specialist, to validate the deployment sequence in a safe controlled manner without using the supersonic car itself.
The test, the second Jaguar has performed for the project following a communications test run with an All-Wheel Drive F-TYPE R Coupé in South Africa last year, also validated the design of the drogue chute, which is a small spring-loaded chute that deploys, inflates and pulls out the main chute.
Peter French, Chief Engineer for Powertrain systems, Jaguar Land Rover, said: "The 5.0-litre 550PS supercharged V8 engine featured in the Jaguar F-TYPE R Coupé will drive Bloodhound SSC's rocket oxidiser pump – a very exciting proposition for us here at Jaguar as we continue to support this world record attempt.
"The Bloodhound Project is bold, inspirational and an amazing showcase for cutting edge engineering. Andy did an excellent job behind the wheel of the F-TYPE today and we look forward to continuing to support him and the team on the ground when the Bloodhound SSC car rolls out for its first test."