Audi launches new RS 3 Sportback at Shelsley Walsh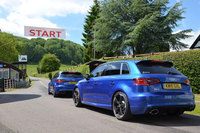 Audi UK launched its all-new RS 3 Sportback at the Shelsley Walsh Hill Climb where 79 years ago Hans Stuck competed in the 16-cylinder Auto Union Type C and Hannu Mikkola took Best Time Of Day in the Sport quattro in June 1986.
Audi's history with the Shelsley Walsh Hill Climb made the venue the ideal place to launch their 367 PS RS 3 Sportback which focuses on pure sports positioning and dynamics.
Held over two days, the RS 3 tackled the famous hill climb, the oldest motor sport venue in the world still on its original course, with journalists getting a rare opportunity to test the most powerful production 5-cylinder engine in Audi RS history.
With over 20 cars available in different specs and colours, the hill climb allowed drivers to experience the car to its full potential including the faster shifting gearbox and faster reacting quattro drive.
Drivers were also able to follow a road route from the Shelsley Walsh Hill Climb, giving further opportunity to test the car on the open road.
Mark Constanduros, Commercial Manager for the Midland Automobile Club said: "This was a wonderful opportunity to welcome Audi back to the Shelsley Walsh Hill Climb. With their history it made the venue a very fitting place to launch the RS 3.
"It was great to see their heritage cars on display and other RS models available for test."
Also available were other models from the RS range including the 560PS RS 7 Sportback and RS 6 Avant, the 450PS RS 4 Avant and the 340PS RS Q3.
Capable of 174mph, the five-door RS 3 Sportback is open now for ordering, with first UK deliveries from July at an OTR price of £39,955.