A mutts-have this summer: The dog safety range from Skoda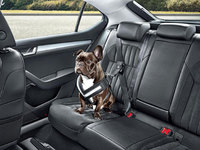 Skoda is advising all dog owners to paws for thought before they take their furry friends on the great summer getaway. Thanks to its passion for safety and the protection of all occupants – whether four or two legged – Skoda has developed a comprehensive range of accessories designed to keep dogs safe and secure on the move.
The range, developed using Skoda's acclaimed Simply Clever philosophy, combines the very latest in canine-cosy materials with high-tech structures to protect even the most boisterous of hounds. From simple seatbelts to barriers designed to give dogs an area of the car they can call their own, the range has everything the savvy dog owner needs.
Among the many accessories available through Skoda retailers is a Dog Safety Belt. This offers the simplest solution for a hound that likes to go walkies on the move. With a simple clunk-click of this specially-developed belt (which handily clicks into a lead for seamless car-to-walk manoeuvres), even the most unruly of mutts will be restrained for when the roads get twisty. The doggie seat belt comes in four sizes – from S to XL – meaning that everything from a Chihuahua to a Great Dane benefit. Prices start from £50 including VAT for the small version, with medium, large and XL costing £65, £75 and £85 respectively.
As millions of owners will testify, dogs are experts in embedding hair and mud in a car interior. Which is why Skoda has developed a neat Backseat Protector designed to minimise the impact of malting, muddy hounds. Whether you're carrying a Chow in a Citigo or a Shih tzu in Superb, the Skoda Backseat Protector (£30 including VAT) does exactly what its name suggests. By attaching to the front and rear headrests, the protector forms a cosy hammock area. The material is water-resistant and has a non-slip surface to further increase safety on the move.
For those who like to treat their dogs to their own private grounds at the back of their estate, the Skoda dog guard is the accessory of choice. Available for Fabia, Octavia and Superb estate models, the grille is light and easy to install, and allows the driver a clear view of the road behind. For smaller dogs, Skoda also offers a system that divides the boot space into two – providing separate spaces for luggage and man's best friend. Prices start from £105.50 including VAT.
Other 'state of the bark' accessories designed to keep owners and hounds happy include a range of tailor-fitted protective mats and inserts. The rubber boot mat is moulded exactly to the shape of the boot-floor and fits so snugly, it doesn't require any special fixings. The Skoda Genuine Accessories range also includes a robust Plastic Protective Liner for the boot.
Additionally, the Rapid, Rapid Spaceback, Yeti, Octavia and Octavia Estate come with a double-sided floor covering for the boot as an option. One side is covered with carpet, the other side with a dirt and water-repellent material. When travelling with a friend with mucky paws, simply flip it over onto the easy-clean side.