Hinckley homes are hot property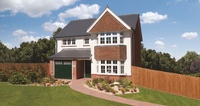 Showhomes are now open at Hinckley's hottest new development.
Park View on Coventry Road offers a choice of three and four-bedroom homes from Redrow's sought-after Heritage Collection.
As the name suggests, many of the properties enjoy views of the green spaces and sports pitches of Clarendon Park.
To help buyers picture themselves living in one of the properties, Redrow has fielded two new showhomes.
Pauline Turnbull, sales director for Redrow Homes (Midlands), said: "We've had lots of positive feedback from those who've taken the early opportunity to view the Shrewsbury and Oxford style showhomes at Park View. People love that the properties look traditional from the outside but are bright and modern with a high specification inside. The Hip Smart system in the Oxford is a real talking point; homebuyers are impressed by the idea of being able to stream music throughout the property through discreet speakers from a central hub under the stairs."
Visitors have also been bowled over by the spaciousness of the open plan layouts, which put well equipped kitchen and dining rooms at the heart of family living.
"Both showhomes are four-bedroom detached designs and while many prospective purchasers might originally be in the market for a three-bedroom detached home, with Help to Buy they could find that their money goes further," Pauline added.
For example, a three-bedroom Letchworth is available for £225,995 or an initial outlay of £179,996 with Help to Buy; while a Shrewsbury similar to the showhome usually costs £254,995 but could be purchased for an initial outlay of £203,996 with Help to Buy. The remaining 20% is covered by the equity loan, which is interest free for five years.
Close to home, on Rugby Road, there are shops to cater for homeowners' daily needs; while Hinckley town centre is just five minutes away and offers a wider choice of retail outlets, plus a regular market. Birmingham can be reached by train from Hinckley station in just 35 minutes while London, via nearby Nuneaton, can be as little as one hour and 20 minutes by train.
The showhomes at Park View are open daily from 10am to 5.30pm. For more information see redrow.co.uk/parkview.