Jaguar XF offers best-in-class residual values, insurance costs and total cost of ownership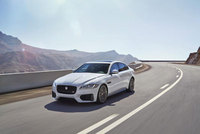 The all-new Jaguar XF will offer better residual values and a lower insurance group rating than any other comparable premium executive saloon when it arrives in retailers in August. A range of competitive service plans will also be available to keep customers' costs under control.
Industry valuation company Kwik Car predict the all-new XF will hold on to 41% per cent of its value over three years and 60,000 miles. That's four per cent up on the Mercedes E-Class (37%) and six per cent better than Audi A6 and BMW 5 Series (35%).
What's more, the new XF will offer more affordable insurance than any of its rivals. Insurance ratings will start from Group 25E - that's five groups better than the equivalent BMW 5 Series, seven better than the Audi A6 and eight better than the Mercedes E-Class.
The XF's excellent cost of ownership proposition will be further strengthened by a range of competitive service plans. Customers opting for the 2.0-litre diesel Ingenium engine (in either 163PS or 180PS power output) will be able to choose between a Standard Mileage and High Mileage package.
The Standard Mileage Plan costs £525 and covers the car for up to five years or 50,000 miles. It includes two services (following the standard two year/21,000 mile servicing intervals), one brake fluid change, and unlimited AdBlue top-ups over the lifetime of the plan. It also includes MOT Protect – an MOT Test warranty that covers your vehicle for up to £750 (inc VAT) for repairs.
The High Mileage Plan covers customers for five years or 75,000 miles and costs £675. It includes up to three services, as well as a brake fluid change, unlimited AdBlue top-ups over the duration of the plan and MOT Protect.
The all-new XF is lighter and more efficient than the model it replaces, and comes packed with technology. As well as offering unrivalled refinement, dynamics and design, it features Jaguar's new aluminium-intensive lightweight architecture which, along with Jaguar's efficient new Ingenium diesel engines, helps the XF to achieve fuel economy as high as 70.6mpg and CO2 emissions as low as 104g/km.
According to Kwik Car the XF also has the lowest total cost of ownership of any comparable premium executive saloon. Over 3 years 60,000 miles XF's total cost of ownership is £3,073 better than a Audi A6, £4,033 better than a BMW 5 Series and £5,191 better than a Mercedes Benz E Class.
Jaguar Land Rover UK Managing Director Jeremy Hicks said: "The XF has been an enormous success for Jaguar, so replacing it was always going to be a difficult task. The challenge in creating the all-new model was to ensure that it improved on the out-going car in every way, not least in terms of cost of ownership. By ensuring that the new XF offers class-leading residual values, insurance costs, economy and emission levels, we've done exactly that."