Skoda named as the UK's most dependable car brand by JD Power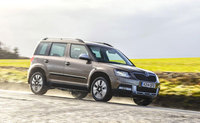 Skoda has been named as the UK's most dependable brand in a new JD Power study. The inaugural 2015 UK Vehicle Dependability Study (VDS) asked owners to report problems with their new cars – from serious breakdowns to troublesome in-car entertainment issues. Once analysed, the results gave Skoda a clear victory, with the brand comprehensively outscoring luxury brands.
The study, which focused on new cars registered between April 2012 and March 2014, used owner data to generate an overall dependability score for each brand. SKODA's score of 77 was the lowest in the entire survey, with the Industry Average for 2015 recorded as 114.
Every Skoda in the survey performed better than the industry average, with the Fabia ranked as the third most dependable car in the Small Car category.
Commenting on the survey, Alasdair Stewart, Director, Skoda UK said: "This result perfectly illustrates Skoda's passion for delivering quality and dependability. As this study shows, our build quality is the envy of the industry, and I'm delighted that this has been recognised. We're always striving to improve quality and reliability, and we hope that this will be repeated in future studies."
Following the JD Power report findings, UK Consumer organisation Which? has also named Skoda as a firm favourite with owners. The organisation's 2015–2016 Car Guide named the Superb and the Yeti as the most satisfying cars to own in the estate and SUV classes, achieving owner satisfaction ratings of 96 per cent and 93 per cent respectively.
Skoda has won numerous industry and media awards for customer satisfaction and has been in the JD Power top ten for more than 20 years in a row. The brand has also been named Best Manufacturer in the Auto Express Driver satisfaction survey three times in the past four years.