Awards for Volkswagen Caddy Maxi and Crafter Chassis Cab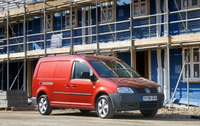 For the second year running, Volkswagen Commercial Vehicles has received two accolades at Professional Van and Light Truck (PV and LT) magazine's annual awards.
Volkswagen was particularly pleased to collect the PV and LT Compact Van award for the new Caddy Maxi, launched only a matter of weeks ago, as well as a second award for the Crafter, which this year was judged the best Van Derived Chassis Cab.
Launched in February this year, the Caddy Maxi offers a 4.2 m³ load volume and 800 kg payload to fit perfectly between Volkswagen's two most popular vans – the Caddy and Transporter.
John Fife, Editor of PV and LT praised the Caddy Maxi saying: 'With a load length now of 2250 mm (compared to the Caddy's 1781 mm) it gives tradesmen the opportunity to carry their stepladders inside the van rather than on a roof rack!
'But the big attraction of the Caddy Maxi is up at the other end of the vehicle. It provides one of the most comfortable driving experiences in the LCV sector. The trouble here is that once an employee gets his or hands on it, anything else will be seen as a demotion!' he continued.
The Van Derived Chassis Cab award for the Crafter coincided with the two year anniversary of its world launch at the CV Show. As the biggest model in the Volkswagen Commercial Vehicles range, the Crafter chassis and double cabs offer payloads from 1,472 kg to 3,026 kg and Gross Vehicle Weights of 3.5 or 5.0 tonnes, its 'Engineered to go' range of bespoke dropside, tipper and Luton conversions from a selected range of accredited converters.
Commenting on the Crafter's award, the PV and LT judges said: 'With its range of 2.5-litre, five cylinder engines, the Crafter has all the power and torque you could need in this size of vehicle. Add that to the spacious and comfy cab, and you have a mix that is hard to beat. The final clincher is that badge on the grille which inspires buyers to buy with confidence.'
Collecting the awards, Daniel Brueggen, from Volkswagen Commercial Vehicles head office in Germany said: 'Winning two awards is a real honour and a professional testament to the credibility and desirability of the Volkswagen Commercial Vehicles range. We believe this is the first award Volkswagen has received for the new Caddy Maxi, and are confident this will be one of many more to come.'