Cavendish Lettings flexes its muscles with launch of new sales arm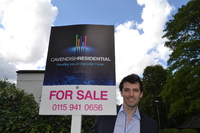 Nottingham based Cavendish Lettings is delighted to announce its re-branding to Cavendish Residential in September 2015.

The group has already added Cavendish Maintenance and Cavendish Investments to its Lettings arm and has now launched Cavendish Sales too.

Headed up by owner Ali Baylav, following the opening of its new office at Fletcher Gate, the Cavendish Group will now embark upon a new cycle of growth.

It's full steam ahead for the firm that has offered high end lets for the last nine years, which will see the brand compete against many of the city's leading estate agencies.

Mr Baylav, 36, said: "We are very excited to announce the opening of our new sales division. Residential Sales is a key part of our re-branding process.

"We want to make sure that we can attend to all of our clients' needs. Our aim is to be able to provide services across the board in the residential property market".
Cavendish Lettings already oversees a portfolio of 700 properties under rental, and since the launch of Cavendish Sales and Investments, has already had 17 new sales instructions and is offering 41 investment opportunities.

Sales and Investments director within the group, Dominic Rice, said: "We are really excited to be able to bring this new service to our customers. Back in August last year we launched our Investments Division, which has gone from strength to strength and our intention is to achieve the same levels of service in the sales side of our business".

"Buying or selling a home is a huge deal and an important stage in a person's life. We are proud to be able to support and advise in these exciting moments."

Cavendish Residential will focus on selling properties in a 25-mile radius of Nottingham city centre.

Mr Baylav added: "Our new sales venture is the natural bi-product of everything else that we do, so it just made sense. We are experienced in looking after homes and therefore know that we can offer a fantastic sales service too."
To find out more or to discuss any aspect of residential lettings, management, sales, maintenance or investment services, visit cavendishlettings.com.