Spitfire designer honoured at launch of showhomes at Taylor Wimpey's Mitchell Gardens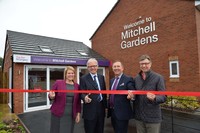 The great nephew of R J Mitchell, Kidsgrove's famous aeronautical engineer who designed the Spitfire, was guest of honour at a special launch event held at Taylor Wimpey's new Mitchell Gardens development in the town.
Ross Mitchell cut the ribbon to open the new showhomes at Mitchell Gardens on Saturday 12th September, before taking a tour of the development named in honour of his great uncle.
Reginald Joseph Mitchell was born in 1895 in Butt Lane, Kidsgrove, just a short distance from the site of the new Taylor Wimpey homes. Working for Supermarine Aviation, he designed 24 aircraft between the First and Second World Wars, the most famous of which was the Spitfire. He died of cancer in 1937 aged just 42.
Taylor Wimpey has donated £250 to Operation Spitfire, a fundraising project which aims to restore and preserve Spitfire RW388, housed in the Potteries Museum & Art Gallery in Stoke-on-Trent.
Work has now started on the first phase of the restoration process, thanks to public donations. Terry Stock, Secretary of Operation Spitfire, also attended the launch event at Mitchell Gardens.
Carl Cooke, Regional Sales and Marketing Director for Taylor Wimpey, says: "We were delighted to welcome Ross to Mitchell Gardens, which is named in tribute to his great uncle and his work designing the Supermarine Spitfire.
"People in Kidsgrove are undoubtedly very proud of their local hero, whose outstanding contribution to aeronautical engineering played such a vital role in the Second World War, and as a local housebuilder we are very pleased to be able to support the local community's efforts in preserving the legacy of the Spitfire for future generations."
The three-bedroom 'Dadford' and four-bedroom 'Lydford' showhomes are now open at Mitchell Gardens, where there's a superb selection of three-bedroom properties currently available to reserve from £158,995.
The Mitchell Gardens Sales Centre is located off West Avenue, Kidsgrove, Staffordshire, ST7 1NT, and is open Thursday to Monday between 11am and 5pm.
Further information about Taylor Wimpey developments across the region is available by visiting the website at taylorwimpey.co.uk.