Major property development creates investment opportunities in Liverpool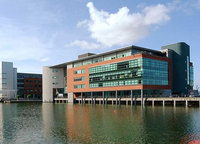 Liverpool Waters is a major development that has big implications for one of the UK's premier cities. It will be a force for job creation and is expected to have a transformative influence on the Northern part of Liverpool. It is also creating a number of exciting commercial investment opportunities, which are open now to property investors who are interested in being a part of this exciting new project.
Liverpool is a city that is admired internationally on many levels. It's a former European Capital of Culture and home to some of the UK's most major sports teams, as well as a popular tourist destination with tourism putting £3.4 billion into the city's economy and creating nearly 46,000 jobs every year.
However, if there is one area in which, until recently at least, Liverpool has lagged behind its neighbour Manchester, in terms of its status as an investment destination. This has started to change in recent years, largely thanks to being one of the UK's premier markets for the high-performing asset type that student property has become. Even before this, however, Liverpool was not an investment destination to be simply ignored, and now Liverpool Waters is set to bring in an exciting and varied selection of new commercial opportunities.
The Liverpool Waters development benefits from a fantastic location, being part of a dockland world heritage site which also contains the Victoria Clock Tower and several original dockland structures and features. Other notable nearby heritage sites and historic buildings include Stanley Dock and Collingwood Dock, and a number of historic buildings in the area including the Victoria Clock Tower are currently undergoing restoration. The aim of the development is to safeguard these important historic sites, while simultaneously making them the centre of a new, exciting era for the North of Liverpool.
The Liverpool Waters project aims to create new opportunities for business and for investment in the up-and-coming Northern part of the city. It is also hoped that, in the future, the development will create better transport links between this area and the rest of the city as well as improve international access to Liverpool's waterfront through an international cruise liner and associated docking facilities.
A wide variety of investment opportunities will be created by the Liverpool Waters development. These include office space and other business units for commercial buy-to-let investors and the option to purchase fractional ownership of hotel units. There will also be new opportunities within Liverpool's thriving student property sector, as well as residential apartments. All of these opportunities will be open to both UK buyers and international investors. It is also hoped that by bringing more international attention to the city and rejuvenating the local economy, the development will indirectly help to increase demand for office space throughout Liverpool, bolstering the market and strengthening the commercial investment market through the area as a whole.
For more information about the investment opportunities at the Liverpool Waters development, please contact Hopwood House.