Fleet sales soar as new Superb hits Skoda showrooms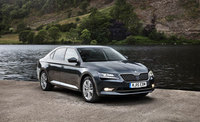 Skoda is preparing itself for a busy end to 2015 with soaring fleet sales and the launch of the new Superb. The brand's fleet team is experiencing unprecedented demand for its award-winning range of models with corporate and SME (Small and Medium Enterprises) sales up 22 per cent compared to 2014. The arrival this month of the all-new Superb is certain to give these impressive figures an even bigger boost before the year is out.
Since its UK launch this summer, Skoda has seen requests for fleet test drives of the new Superb rise to an unprecedented level, prompting a fleet of vehicles to be assigned exclusively for corporate and SME customer demonstrations.
Skoda has developed the Superb to have strong appeal with fleet buyers, with running costs among the lowest in the sector. Factor in the Superb's spacious and incredibly practical cabin and generous equipment levels and the case for the Superb is exceptionally strong.
Designed to meet the specific needs of the fleet market, an SE Business trim level adds a raft of additional equipment over the already well-equipped SE model. The specification, which delivers even greater comfort and technology, includes upmarket Alcantara upholstery, front and rear parking sensors and stylish sunset glass from the B-pillar back. Skoda's acclaimed Amundsen touchscreen satellite navigation system with Bluetooth is included as standard, as well as SmartLink (which integrates mobile phone functions via Apple CarPlay, MirrorLink and Google Android Auto). Also featured is Drive mode selection, which enables drivers to choose between Eco, Sport or Normal driving profiles.
Nadim Mehar, Fleet Manager at Signalling Solutions LTD, commented, "I've just taken delivery of a new Skoda Superb 2.0 TDI Laurin & Klement and I am delighted with the vehicle. The exterior looks fantastic and the interior is of a very high standard. I can't believe how good the car looks; well done Skoda!"
Patrick McGillycuddy, Head of Fleet at Skoda UK, commented, "It's already been a strong year for Skoda corporate and SME sales with 22 per cent growth on last year, and we are already experiencing huge levels of interest for the new Superb.
"The Fleet team have been working hard to place new Superb on the list of every Fleet Manager from Dover to Dundee. The level of interest in a demonstration in the new model has far out-stripped our expectations and they're barely off the production line."
The new Skoda Superb is available with P11D values from just £18,585 and BIK of just 16 per cent.The Skoda Superb is available from just £200 a month (plus VAT and initial rental) with Contract Hire.