Casino investors backing bitcoin success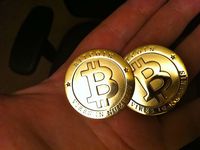 Online casino providers are the last people you would expect to be quick to take a punt but a new online casino brand is doing just that.
The online gaming face of Vegas Royal S.A, vegascasino.io, have staked their future on the continuing success of the digital currency bitcoin, becoming one of the first online gaming providers to offer their customers the opportunity to play in the currency.
Visitors to the site are able to enjoy the same gaming opportunities they would expect to find anywhere else, with the one obvious distinction that they can pay, play with, and withdraw their winnings in bitcoin. The ability to play in a currency that is - by definition - unaffected by regional restrictions has obvious benefits for players who are - for whatever reason - keen to play outside their own locality.
Surge in value
The current surge in the value of bitcoin - at the time of writing it has just passed the $300 threshold - suggests that fears over the currency's long-term viability are receding. Mastercard is amongst the big name financial houses to announce that - contrary to its earlier stated intention - it is to invest in Bitcoin. Other institutions to have already taken the plunge include Canadian bank CIBC, insurer New York Life and venture capital firms TransAmerica Ventures and Bain Capital Ventures.
The high end speculation in the bitcoin project inevitably depends on the currency meeting the needs of real world businesses and their customers. In this respect www.vegascasino.io - soon to be joined by 90 digital's Oshi! branded offering in the bitcoin casino marketplace - represents commercial proof of the viability of the currency going forward.
Serious investment
Certainly, the level of investment in the casino website suggests that it is fully committed to a business model founded on bitcoin's long-term viability. The website is no mere toe in the water exercise. It boasts state-of-the-art technologies that deliver live dealer casino games, a fully integrated sports book and a well-developed affiliate programme.
In terms of the wider picture, Venturebeat.com have reported a slowing in the level of investment in new bitcoin start-ups The figure for Q3 is down 40% on the Q2 figure - a cash reduction from $145 million to $85 million. Such a seemingly dramatic fall may, however, not be as serious as such dramatic percentage figures suggest. The bitcoin market is still at a modest level and the sums involved are still relatively modest.
What those figures do point to is the dynamic and - as yet - uncertain commercial possibilities that bitcoin allows. Whilst the future of the bitcoin enterprise as a whole remains far from certain, there are increasing numbers of investors - and gamblers - who are prepared to back it. Whilst that trend continues, bitcoin - and those who are prepared to commit to its success - will continue to go from strength to strength.