NH Hotel Group to launch first nhow hotel in London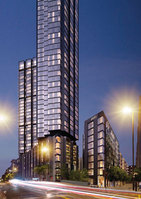 NH Hotel Group will bring its nhow brand to the UK capital in a new development from internationally acclaimed studio Foster + Partners, located within Shoreditch and the City of London. The area, known as 'Tech City' is the heart of the Capital's technology and digital sector and widely recognised as the most rapidly growing commercial centre in the UK. Thanks to a management agreement signed between the Company and AXA IM - Real Assets, NH is expected to operate its first nhow hotel in the country by 2019.
Located in a 5.5 acre mixed-use new development called 250 City Road, designed by the world renowned architect Lord Norman Foster's studio, Foster + Partners, the 8-floor hotel will feature 190 rooms, a restaurant, bar, gym and meeting rooms. As with the other nhow properties, the hotel will offer an unconventional and unique experience that will awaken guests' senses, at the same time as making them feel welcomed and part of an unforgettable experience. The hotel will become a destination and hotspot for visitors to the city, whether they are business travelers, leisure travelers or London residents.
nhow hotel brand
Under the umbrella of NH Hotel Group, nhow is the chameleonic hotel brand that adapts itself to the city where it is located and is always changing. Taking its inspiration from the most avant-garde cities in the world, nhow hotels are designed by the most creative minds of the moment: Foster + Partners; OMA, founded by Rem Koolhaas; Karim Rashid; Sergei Tchoban and Matteo Thun, among others. Iconic, inspiring and surprising, at nhow hotels everything is unexpected, with a different experience for every consumer but a common sense of "wow". Located in key trendy urban areas undergoing transformation and change, nhow hotels become a reference point for people to meet, experience and create.
Federico J. González Tejera, CEO of NH Hotel Group says "nhow brings in an up to now unseen level of hospitality and aims to become the benchmark for the most innovative cultural, social and artistic movements of big cities, globalized and constantly changing."
nhow is already present in Milan, Berlin and Rotterdam, and is expected to reach 12 additional destinations by 2018. In addition to the current nhow hotels opened and the one signed in London, the company has two other ongoing nhow projects; one in Amsterdam, called nhow Amsterdam RAI and another development in Santiago de Chile.
The development of the nhow brand is part of the 24 initiatives included in NH Hotel Group's strategic five year plan with which the company aspires to be the top choice in the mind of consumers. As a result of the implementation of the plan and the Group´s focus on the nhow brand, the company is registering extraordinary performance in its hotels within this category.
For more information, visit nh-hotels.com.