Lovell celebrates success as new Nuneaton homes are a hit with first-time buyers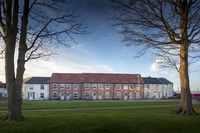 Lovell Homes is celebrating sales success for its Eaton View development, the latest phase of new homes delivered by the company through the Pride in Camp Hill partnership's ongoing Nuneaton regeneration programme.
When complete, Eaton View will create a new community of 59 high-quality two- and three-bedroom houses only a couple of miles from the centre of Nuneaton. The scheme is proving extremely popular with first-time buyers.
Affordability has also been a key factor in the development's success with homes available through the Help to Buy: Equity Loan scheme enabling purchasers to move in with a five per cent deposit and 75 per cent mortgage. Ninety five per cent of the homes snapped up so far have been sold through the Help to Buy: Equity Loan scheme which is open both to first-time purchasers as well as existing homeowners looking to move.
Regeneration programme brings new homes

The success of Eaton View is the latest achievement of the landmark regeneration programme by the Pride in Camp Hill partnership which has successfully transformed the local area. Once complete, Eaton View will bring the number of new homes built by Lovell through the programme to 402. In addition, the company has delivered new roads and the new Village Centre which includes seven shops and a multipurpose youth, community and learning centre. In line with the Lovell Legacy commitment to provide lasting benefits for the wider community, the company's construction programme has additionally brought new jobs, training opportunities for local people and support for community groups and organisations.
"We're very proud to have worked with Pride in Camp Hill and the local community to provide high-quality homes and other benefits locally as part of Camp Hill's ongoing transformation," says Lovell regional sales manager Kelly Sharman. "The success of our Eaton View development testifies to the renewed vitality of the area as well as the impressive build values and design of the development's new homes. We're particularly pleased to have enabled a high number of first-time buyers to settle and put down roots in the area by moving to a brand-new home at Eaton View."
Located to the north west of Nuneaton, only two miles from the town's main line station, Eaton View is ideally located for Midlands commuters, with easy access to both Coventry and Birmingham. An excellent choice of schools includes two infant / primary schools just half a mile away, while three more primary schools and Hartshill and Manor Park Community secondary schools are within a mile. The area also offers plenty of leisure time attractions with the chance to get into the great outdoors at Camp Hill woodland area and Stubbs Pool. The MFA Bowl is just two-and-a-half miles away and it's less than ten miles to the Kingsbury Water Park.
Situated in Copper Beech Road, Nuneaton CV10 9FB, Eaton View's marketing suite and show homes are open from 11am to 5pm on Mondays and from Thursday to Sunday from 10am to 5pm. To find out more, speak to the sales team, visit lovellhomes.co.uk or download the Lovell Homes app.