Development is top of the class when it comes to a location that ticks the boxes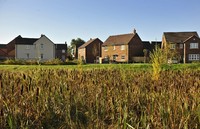 Parents wanting to give their children the best educational start possible are paying almost £44,000 extra for a home in a good primary school area – a new report suggests.

Families in the UK are paying over the odds for a home with a top performing school on their doorstep, ensuring that they are in the catchment area for the crucial first years of learning.

According to the research (by online estate agents HouseSimple) the average premium paid to be close the top 50 state funded schools that received the highest Ofsted ranking is £43,773.

However, Linden Homes Midlands can go straight to the top of the class when it comes to offering brand new housing at affordable prices, whilst being in the catchment area of an Ofsted outstanding ranked primary school in Lincolnshire.

The popular Cygnet Place development in the village of Witham St Hughs is offering families a last chance to buy – at a location within the catchment area of the top performing Witham St Hughs Academy.

The remaining four-bedroom homes are ready to move into this summer. And while the schools are in their last term for this current academic year, a move to Cygnet Place will put buyers in the catchment area in plenty of time for the 2017/18 intake.

The popular Lincolnshire village development is made up of 50 three and four-bedroom homes, at a location which boasts the best of both worlds.

Many of the remaining homes enjoy views overlooking the open countryside, yet Witham St Hughs is perfectly placed for easy road and public transport services to commutable Lincoln and Newark.

Only eight homes remain for sale - in a range designs that start from an affordable £224,995 - and could be yours within a matter of weeks.

Linden Homes' area sales manager Bev Bray said: "In light of this latest research, we would certainly advise people looking to move to a location which ticks all the boxes in terms of quality, design, affordability and being close to good school and local amenities to come and take a look at what is on offer at Cygnet Place.

"Far from paying a premium for the homes, we can help curb the cost of moving, even if you are an existing homeowner, through a number of incentives."

Part exchange - Linden Homes will arrange for at least two independent valuations of your existing home and will make you an offer based on their suggestions. Once you agree the offer, and subject to satisfactory surveys, Linden Homes becomes your buyer, freeing you up to put in a reservation on your new home. After that, it's a case of setting a moving-in date, boxing up your things, and basking in the relief of a quick chain-free move to the home of your dreams. You can stay in your existing home until your new one is ready.
Help to Buy – customers require a minimum five per cent deposit. The government will lend you up to 20 per cent of the value of your property through an equity loan, which can be repaid at any time or on the sale of your home. Buyers will only need to secure up to a 75 per cent mortgage from a bank or building society. The maximum home purchase is £600,000.
And further more, there are additional savings to be made on Stamp Duty in many cases, following the reforms announced by the Chancellor last December. lindenhomes.co.uk/offers-incentives/stamp-duty-changes