Plenty for all the family at Hatton Shopping Village this summer!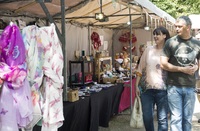 Hatton Shopping Village within the West Midlands is to host a number of exciting events for all the family over the summer holidays. The quintessentially English shopping village, part of Hatton Country World will be hosting two new summer markets over the weekends of 6 & 7 August and 27 – 29 August from 10am – 5pm. On offer will be a diverse range of stalls from local suppliers selling scarves, purses, jewellery, cards, books, photo frames, handbags, clothes, personalised wall and desk clocks, key-rings, accessories and wax crayons, cuddly animal toys, skincare and gifts for animal lovers including elephant dung note pads! Visitors can also purchase home-made cakes, gluten free food, eggs and homemade jams. There is also a fabulous on site restaurant, bar and tea room and a delightful café serving up delicious meals and afternoon teas to really make a day out.
On Tuesday 2 August, and on every first Tuesday of the month, visitors can listen to gardening talks in the Garden Centre at 11am for an hour for advice, ideas and top gardening tips, from the resident Gardening Expert, Julian Ranson.
The Imp Club's Show & Shine day takes place on Sunday 7 August where visitors can view around 200 Hillman Imps and discuss these popular cars from the 60's & 70's with their owners. The day ends with the presentation of the Class Awards and the Best in Show trophy from 3.00pm onwards.
On Sunday 28 August the Allard Owners Club will celebrate their 65th anniversary with their Concours d'Elegance. Visitors can see some of the finest examples of these rare cars, the V8 supercars of their day, displayed in all their glory.
For those that want to make most of the bank holiday weekend, camping is available for 3 nights from 27 – 29 August. The weekend is themed "Super Heroes" where children can dress up as their favourite super hero and enjoy plenty of fun and games. Camping fees include the pitch for the tent and full entry into neighbouring Hatton Adventure World throughout the weekend with access to the outdoor laser combat (8yrs+). With super hero fitness classes, character discos and access to the Super slide Mania after the public have gone home, children can sleep soundly in their tents whilst adults can sit back and enjoy the peace of 'Hatton by night'!
For those that love the great outdoors, there are three new walking routes across the Hatton Estate. These link up Hatton Country World and Hatton Locks, which features 21 locks and is also known as the 'Stairway to Heaven' to The Hatton Arms Pub & Restaurant. The walks take in towpaths and footpaths and range from 1.5 miles to 5.5 miles through fields with views over Warwick. To download details of the walks visit hattonworld.com/shopping-village/hatton-shopping-village-warwick/our-walks/
Hatton Shopping Village has FREE entry with masses of FREE parking. For more information visit hattonworld.com/shopping-village
Hatton Adventure World is open every day (excluding Christmas Day and Boxing Day) from 10am to 5.30pm. For more information please telephone 01926 843411or visit the website at hattonworld.com/adventure-world.