Cosy up in a new home this autumn - and move in before the dark nights arrive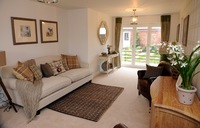 While we prepare to see out summer, there's still plenty to celebrate when the clocks go back and the nights pull in – like snuggling up in a new home and saving money on bills!
If you are looking to hibernate in a brand new place of your own this autumn, Linden Homes East Yorkshire can help you get settled before the colder weather kicks in.
And a brand new home at this time of year will almost certainly result in savings when it comes to utility bills - thanks to economic boilers, insulation and double-glazing.
The estimated annual cost of running an average sized three-bedroom home in the UK is almost £20,000 a year – that's £1,634 a month.
However, a new property - built to current energy saving standards and regulations could be around half the cost of running an older counterpart.
Some eco-advantages and savings tips associated with buying a brand new home:
- The majority of new homes have thermostat controlled heating - turning it down by just one degree can save around £30 a year.
- Most new Linden Homes properties will use 75 per cent energy efficient light fittings as standard. In addition, LED lighting spotlights instead of 'old fashioned' bulbs will cut around £35 a year from your bill.
- Linden Homes will fully draught proof your home. Figures show a fully draught proof home could save around £55 a year. Don't forget to keep doors closed in rooms you are using to keep the heat in.
- Boilers account for around 55 per cent of what is spent on energy bills in a year. Your new home will have a shiny new super energy efficient one.
- Where possible, appliances fitted into Linden Homes properties are A rated or higher for energy performance.
- All the toilets in Linden Homes properties feature a dual flush to help conserve water useage.
- New homes will be built with the recommended insulation throughout the home – so no need to check and upgrade.
And for first time buyers, existing homeowners or those looking to downsize – snapping up a brand new home at a dream location has never been so easy.
To help curb the cost of moving to a new home across the region even further, purchasers can also benefits from a series of incentives, whatever their reason for moving:
Help to Buy – customers require a minimum five per cent deposit. The government will lend you up to 20 per cent of the value of your property through an equity loan, which can be repaid at any time, or on the sale of your home. Buyers will only need to secure up to a 75 per cent mortgage from a bank or building society. The maximum home purchase is £600,000.
Part exchange - Linden Homes will arrange for at least three independent valuations of your existing home and will make you an offer based on their suggestions. Once you agree the offer, and subject to satisfactory surveys, Linden Homes becomes your buyer, freeing you up to put in reservation on your new home. After that, it's a case of setting a moving-in date, boxing up your things, and basking in the relief of a quick chain-free move to the home of your dreams. You can stay in your existing home until your new one is ready.

Linden Homes East Yorkshire sales director Steve Woomble said: "We've got some fabulous homes across the region which are ready to move into now or later this year. Many people tend to wait until after the schools have gone back and the holidays are over to resume their search, so now is the perfect time to reserve a new home.
"The huge benefit is that customers could move in as little as four weeks – which means they can be settled in before the arrival of winter.
"Some of the homes which are ready to move into now also come with fitted carpets, curtains or even light fittings.
"In addition, others have the chance to buy their dream home by reserving it from plan, and reaping the many advantages that buying fresh from the drawing board present."
For details of where and what Linden Homes is building near you – visit lindenhomes.co.uk