Redrow turns up heat with final phase of family homes in Tamworth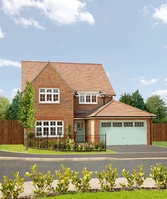 As the weather turns cooler, Tamworth homebuyers are being urged to act fast if they don't want to be left out in the cold.
Properties at Redrow's Pennine Grange development are proving popular with 80% of the family-sized homes now sold.
With the final phase of four-bedroom properties on sale, time is of the essence. The good news for those with a house to sell is that Redrow can help via its Mastermove service.
Pauline Turnbull, sales director for Redrow Homes (Midlands), explains: "The location, combined with our high specification and the ease of living that a brand new home offers, means that Pennine Grange is the perfect choice for buyers with children. Interest in the properties remains high and now that we've released the final phase of family-sized homes, there's no time to waste.
"Those who are yet to sell their existing home can sign up for Mastermove. We'll then take the home they want to buy off the market for a limited time while we work with a local agent to sell their current property quickly and at full market value. It's a great way for people to sell up and move on, whether they are upsizing, downsizing or relocating to a home of a similar size and value."
The final four-bedroom homes at Pennine Grange are priced from £309,995 to £379,995 and include Welwyn style properties at £354,995 that are almost ready to move into.
"At this time of year in particular, new-builds really do come into their own as people start to turn on their heating and think about how much they spend on energy bills," Pauline adds.
"Our homes are packed with features designed to minimise energy use and maximise efficiency, with high quality insulation, double glazing, low-energy boilers and effective ventilation systems, as well as energy efficient lighting, included as standard in all our properties. It could make a huge difference when it comes to family budgeting."
Redrow has calculated energy use and costs for some of its house styles and compared them to those for equivalent-sized Victorian homes with modern day improvements. Results showed that a new four-bedroom home could save bill payers around £1,299 a year.
The figures show that energy cost savings on a four-bedroom home, for example, would add an extra £108 to the family purse every month. This could make a welcome contribution to the mortgage repayments or other household bills, it could buy around two tanks of fuel a month or could all add up to an extra family holiday every year.
Along with the family-sized homes, Pennine Grange also includes affordably priced one and two-bedroom apartments.
For more information, visit redrow.co.uk/pennine. Alternatively visit its show homes and marketing suite, open daily between 10am and 5.30pm.