Thinking about moving this Christmas? 12 Good Reasons why you should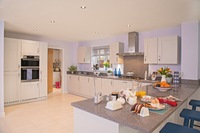 Moving home in the run up to Christmas isn't everyone's idea of festive fun – particularly on top of the ordinary stresses and strains of the season.
With moving house already well documented as one of life's most stressful experiences, some home hunters may prefer to delay a move until the New Year.
However, there is no need to feel 'bah humbug' about moving home in December – as there are a number of incentives, benefits and choices on style and location to keep home-hunters' festive spirits up – say Linden Homes East Yorkshire.
Sales manager Julie Hubbard said: "Buying a new home at any time of year is extremely exciting, but moving at Christmas time gives you the chance to really enjoy your new surroundings and show them off to family and friends – as well as take advantage of special incentives."
Moving into a brand new home around Christmas gets a seasonal thumbs-up because:
1 A brand new home marks the start of a new chapter in your life – and a great milestone to celebrate, particularly at Christmas.
2 You will have a shiny new kitchen in which to cook your Christmas dinner as well as a fantastic dining space to entertain your guest – and set out a fabulously festive table!
3 Buyers can take advantage of the many money saving incentives available – including Help to Buy, giving you a bit more budget to spend on your Christmas shopping.
4 A new home in a new location presents the chance to meet new people and neighbours.
5 Energy efficient features mean that you will save money on utility bills, and reap the benefits throughout 2017.
6 A brand new boiler guarantees you will stay cosy in your new home through the Christmas period and the winter.
7 With new properties meaning less winter maintenance than their second hand counterparts, you won't need to think about seasonal repairs and have more time to enjoy the festivities.
8 Having an ensuite shower room, extra bedroom or downstairs cloakroom allows for additional space for guests over the holiday.
9 Moving to a new home means that you can clear the clutter before you settle in – leaving more room for Santa's deliveries on the Big Day.
10 Make a list of what you need for your new home and use this time to give Christmas present ideas to family and friends and pick up what ever else you need in the January sales.
11 If you are moving with children, get them involved – and use an advent calendar as a countdown to 'Moving Day'.
12 Lastly, relax and enjoy thinking about starting the New Year in a fabulous new home.
Linden Homes East Yorkshire have a number of homes ready to move into now at developments across the region. For details visit lindenhomes.co.uk.