Calling all foodies to Spain's National Cheese Festival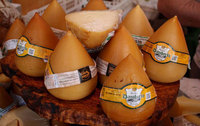 More than 100,000 people will flock to Trujillo in Extremadura in south west Spain during the annual National Cheese Festival, which takes place from 28 April to 1 May this year. The historic main square of Trujillo will fill with stallholders displaying over 300 different Spanish cheeses from Manchego to Ibores, La Serena and the local speciality, Torta del Casar. The six restaurants in the square will all offer traditional recipes incorporating cheeses from the local region as well as other local delicacies including Jamón Ibérico de Bellota, one of Spain's finest hams and dishes using the famous Pimentón de la Vera (paprika).
Guests staying at one the villas offered by Trujillo Villas Espana will be offered a bespoke tour of the festival with a local cheese expert, who will be able to point out the best types of cheese, explain the process of making them and recommend specialty dishes in the local restaurants.
Trujillo is one of Extremadura's most important historic and cultural towns and has been hosting the cheese festival since 1986. The walled hilltop town overlooks vast unspoilt countryside and dates back to 600BC. Birthplace of the Conquistadors, Trujillo has a rich history but has largely remained under the tourist radar.
Trujillo Villas Espana, the only villa rental company in the town, offers five restored properties, catering for varying sizes of group, all situated within walking distance of the main square. The villas range from a one bedroom artists studio with contemporary interiors to Villa Moritos, a restored conquistador's mansion with sweeping views of the plains of Spain, sleeping eight people. Prices start from £110 per night in the Artist's Studio. The tailor made two hour tour costs Euros 65 per person based on two people sharing.
The nearest airport is Madrid, with Trujillo being a two and a half hour drive.
For more information about Trujillo Villas Espana, visit trujillovillasespana.com