History remembered at new housing venture in Staffordshire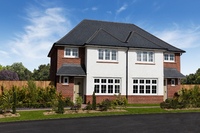 Fradley's history will live on with a new development named after aircraft that flew via RAF Lichfield during World War II.
Award-winning housebuilder Redrow has detailed consent to build 69 homes on 6.6 acres of land at Hay End Lane, next to the former airfield.
In recognition of the area's historic links in training aircrew using Wellington bombers, the development has been named Wellington Place.
Pauline Turnbull, sales director for Redrow Homes (Midlands), explains: "It's almost 60 years since RAF Lichfield ceased to operate and, while the land has been redeveloped over the years, it's important that we remember the important role it played during World War II."
Wellington Place will offer 52 private sale properties, plus 17 affordable homes.
It's not just the name of the development that gives a nod to the past.
Designs are from Redrow's Heritage Collection, offering a choice of two, three and four-bedroom homes that look traditional, taking inspiration from the architecture of the Arts & Crafts era.
Along with the homes, Redrow will create a play area within the development and there will also be an area of public open space.
The housebuilder has also committed to a package of community investment known as a section 106 agreement totalling £900,000.
"It's important that when we build new homes we also invest in the wider neighbourhood for the benefit of everyone who lives there," Pauline says.
"For example, in Fradley we're building family homes and so we've agreed to gift around £700,000 to education in the area."
The new homes are being built close to the Coventry Canal, just half a mile from the centre of the village. The village hall, skate park and ball court, primary school, post office and village green are all within a 10-minute walk; while Lichfield is 10 minutes away by car.
With the first homes at Wellington Place coming soon, potential purchasers are invited to register their interest now via the website redrow.co.uk/wellington.