Vauxhall urges customers to buy now and beat the tax man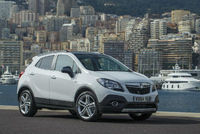 Vauxhall is encouraging customers to buy in March from its best-selling range of passenger cars to avoid next month's Vehicle Excise Duty (VED) increase.
The updated road tax measures will provide a big shake-up of the existing system, with the revision of the vehicle tax bands affecting everyone buying a new car from April 2017 onwards. Big savings can be made across the award-winning Vauxhall range if you buy now before the new rules come in to force.
Based on four years of ownership, the Corsa SRi 1.0i Turbo (90PS) Start/Stop ecoFLEX in three-door hatch body style will go from £60 (zero VED in the first year, subsequent years at £20 standard rate) under the current regulations to £560 on the 1st April.
If you're in the market for one of the best compact family cars on the market, the Astra SRi 1.0i Turbo (105PS) Start/Stop ecoFLEX in five-door hatch body style sees a VED hike of £500, where you would pay £60 under current VED regulations.
For customers looking for a compact SUV, the new regulations mean a Mokka X Active 1.6 CDTi (110PS) Start/Stop ecoFLEX FWD model will see VED increase by £500 to £560.
These savings are in addition to Vauxhall's Sales Event which runs 17th to 21st March 2017, where you can get that new Vauxhall you've always wanted plus a great deal more. As well as beating the taxman, you can get £500* spending money and 20 per cent off genuine Vauxhall accessories**. And that's on top of our already great offers already available.
"We don't want our customers to be caught out on VED come 1st April," said Leon Caruso, Vauxhall's Retail Sales Director. "Not only can they beat the tax hike if they order in March, but customers can also take advantage of our great finance offers, making their new Vauxhall even more affordable."
For more details visit your local Vauxhall dealer or go online at vauxhall.co.uk
All figures based on VED costs over four years of ownership.
* Participating Retailers only. £500 spending money not available on VIVA, Corsa Sting, Corsa Sting R and Corsa Diamond. £500 spending money given as pre-paid debit card and is not given in cash. Your Card is issued by R. Raphael & Sons plc pursuant to license by MasterCard International Incorporated. MasterCard is a registered trademark of MasterCard International Inc. R. Raphael & Sons plc is a UK bank authorised by the Prudential Regulation Authority and regulated by the Financial Conduct Authority and the Prudential Regulation Authority (registration number 161302) and is permitted to issue e-money. Head office and registered office at 19-21 Shaftesbury Avenue, London W1D 7ED, company registration number 01288938. Spending money available on eligible, selected new vehicle orders from 17th-21st March 2017 and registered by 31st March 2017.
** Prices do not include fitting or painting. Prices include VAT. Accessories must be purchased between 17th-21st March 2017. Accessories must be ordered by Retailer at the time of new car order. Online orders are excluded from the offer. General Motors UK Limited t/a Vauxhall Motors reserves the right to change, amend or withdraw this offer at any point in time.
Savings of up to £500 available by beating the VED increase on April 1st on eligible, selected new vehicles registered by 31st March 2017. Offer applies to private individuals, Vauxhall Partners and small businesses 1-24 units. All other customers are excluded. Terms, conditions and exclusions apply. Refer to vauxhall.co.uk/salesevent or contact your local retailer for details.