Pricing and specifications revealed for Sutton Range Rovers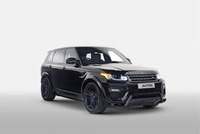 Clive Sutton has announced full pricing and specification details for the company's tailor-made styling and performance-tuning packages for Range Rover models. Buyers can opt for a complete upgraded vehicle, or can purchase custom packages for their own car.
The entry-level Sutton Range Rover Sport, which includes the base vehicle with custom refinishing, colour-coding of bodywork, and a carbon fibre appearance package, starts from £80,000 (incl. VAT).
Custom paintwork incorporates refinished bumpers, side skirts, grille and vents in matching body colour. Alloy wheels are also removed and primed, before being painted in gloss black or colour-coded to the body. Badges are removed and replaced with subtle motifs in satin or matt black. The package is also available as a standalone addition for existing Range Rover owners, priced at £3,900 (incl. VAT).
The carbon fibre appearance package is available in either a gloss or satin finish, and is applied to the front grille, bonnet and wing vents, boot rail trim, door mirror casings, bumper inserts and the rear lower valance. Like the custom paintwork, it is also available as a standalone package, priced at £3,600 (incl. VAT).
Buyers who want a more aggressive look from their car can opt for Sutton's 'aero' bodykit and wide track upgrades. The 'aero' styling package includes completely revised front and rear bodywork panels, manufactured to OEM quality and safety standards. The result is an imposing and distinctive design enhancement for the Range Rover, with lower front and rear style bars, a roof spoiler, and integrated custom exhaust tips. As a standalone package, it is priced from £10,800 (incl. VAT).
The wide track package, priced at £2,400 (incl. VAT) incorporates body-coloured extended wheel arches, with a wheel spacer kit of 50mm at the front and 70mm at the rear, to enable a wider stance without changing the OEM wheels.
For buyers who wish to specify new wheels, Sutton has selected lightweight, 22-inch, 10-spoke alloy wheels to complement the styling of the Range Rover. Priced from £5,280 (incl. VAT) for a set, the wheels can be painted in any custom colour for additional £960.
Sutton Bespoke has extensive experience of interior refinishing, and for the new Range Rover programme it has developed specific two-tone leather seat upholstery. The contrast finish is applied to the seat squabs and back rests, lower dashboard, instrument binnacle, door inserts and cubby box lid and steering wheel centre. The interior upgrade package is priced from £4,560 (incl. VAT).
Beyond its menu of specific packages, Sutton Bespoke provides a 'tailor-made' service for its customers, delivering a car to an exacting brief, to create truly unique Range Rovers. Sutton's heritage with the Range Rover marque dates back 30 years, when the company was working on customisation projects for first-generation models.