5 major do's and don'ts of drones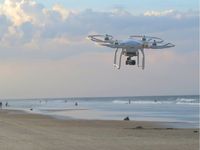 Drones can be a lot of fun to fly, but you need to make sure that drones are flownsafely and legally. To help drone owners with this, the Civil Aviation Authority revised and updated its drone code in November, as BBC News reported. CAA research suggests that only roughly 39% of drone ownersare aware of its regulations aimed at ensuring safe flying. If you own a drone and are among the other 61%, here are some significant rules to remember as you prepare to take a drone to the sky.
DO remember the mnemonic 'DRONE'
To help make its regulations easier to remember, the CAA has summarised many of them in the form of a mnemonic that spells 'DRONE'.There are five safety tips corresponding to these five letters. So, DON'T fly close to airfields or airports, REMEMBER to keep your drone below 400 feet and at least 150 feet away from people, and OBSERVE your drone continually. Also, NEVER fly that machine close to aircraft, and ENJOY your drone-flying in a responsible manner.
DO undertake whatever training is relevant and necessary
Before buying a drone, carefully research what kind of training you might need to undertake in order to use that drone in a fashion that is both safe and legal. Whatever training is indeed necessary, you might be able to obtain it from the same company that provides your drone. So, when looking at different UK drone companies, look for one like the commercial drones outlet COPTRZ, which provides essential training with each drone that it sells.
DO be careful where you fly your drone
You've already read some CAA guidance on this subject, but it's also worth checking with your local council to see what their regulations on drones are. In May, Bristol City Council banned drones from all but three of its parks, Bristol Post reported.This has left several parks – including Netham Park, Ashton Court, and Troopers Hill – off limits for the many people who previously flew drones there. Other open ground that is council-owned but not specifically a park is similarly ruled out.
DON'T allow your flying drone to escape your sight
Drones can be dangerous when they are not carefully controlled. To ensure this kind of control for your own in-air drone, you need to make sure that it is always in your sight. That way, you can ensure that you can see obstacles and then act to swerve your drone away from them.
DON'T overlook the legal implications of flouting drone regulations
The business of making sure that people fly their drones safely is treated very seriously in the UK. If you are intent on using one of these machines, then you need to treat this business very seriously, too. The CAA's "drone code" posted on Dronesafe.uk states that you are the one with legal responsibility for each flight. Flying irresponsibly could land you a criminal prosecution. Endangering an aircraft's safety with a drone is illegal and could lead to a five-year prison sentence.