How to stay in contact with your family when you move away for some time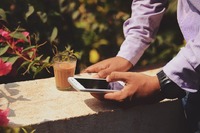 Planning to travel or move away from your family? Then here are a few hints and tips for staying in touch with those you hold most dear, so they don't feel neglected or out of the loop. No matter how many miles apart you are there are a variety of ways you can stay in touch, with just a little effort on your part.
Set up a blog
While you are away travelling, set up a blog so you can update your family on your adventures. Yes, it will be a single communication for all of your contacts, not a tailored or personal one, but it's a great way for you to share text and photos of your travels - a travelogue in effect.
Social media
Social media provides an easy way for you to keep in touch with your family, with snippets of text and photos, sharing the highlights of your time away with them. However, if you want to have a more lengthy or personal communication, there are a number of ways you can go about it.
Chat via video
Skype and Face Time allow you to chat with your family over the internet, so you can see the faces of those you love. Set up a day and time in advance and put it in your calendar, so you don't miss each other.
Just a phone call away
Arrange cheap calls to Pakistan, (or a number of other countries), while you're away, so your family and friends can keep in touch with you. The whole process is straightforward, with no need for a pin these days. What's more; cheap call are available, with calls costing just 5p a minute (rounded up to the next minute), all day every day, plus a 5p connection charge each time, so you'll have certainty about your bills. There's nothing like hearing someone's voice to feel close to them, so set up a phone account before you leave and keep in touch. Then you can have a catch-up chat, whenever you want.
The old fashioned way
Keep in touch the old-fashioned way and send postcards or letters while you are away. Your friends and family will be delighted to see and read about your travels or visualise your new home. Like it or not, there will always be some people who don't feel comfortable using modern technology or would simply cherish a hand written note. So dust off your fountain pen and get writing, it's much more personal than a social media post seen by all and sundry; and something your family will treasure for a long time to come.
So there you have our top tips for staying in touch with your family, when you move abroad for some time, from setting up phone accounts so your family can easily call you abroad to practising your handwriting skills or taking to social media, there are a variety of ways you can stay in touch.